Sanibel Sea School Aims to Transform, Not Just Teach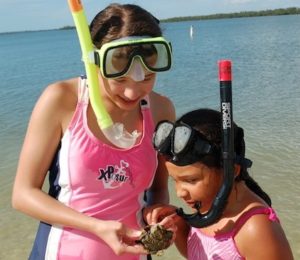 People fall in love with the ocean in many different ways: surfing, boating, scuba diving, beach-walking. Sanibel Sea School, a day-school program on Sanibel Island, Florida, aims to help young people fall in the love with the ocean through intellectual discovery.
The school is the brain-child of marine biology professor J. Bruce Neill and his wife, Evelyn, who have high hopes that some day all people will value, understand and care for the ocean. It's a "broad-reaching, idyllic goal," Bruce says, which is why they're focused on a much more manageable mission to "improve the ocean's future one person at a time."
Or in this case, up to 30 young people at a time. Called "college for 8-year-olds," Sanibel Sea School offers students aged 6 to 13 two half-day courses a day focused on topics like gastropod mollusks and mangrove forests.
But instructors at Sanibel Sea School don't just lecture students about mangroves; they take them out on field trips to experience them firsthand. "We taste them, we smell them, we slog around in the mud," Bruce says. "We get extraordinarily lost in a giant jungle of mangroves."
This experiential learning helps solidify in the students' minds what they've seen and heard. "When we discover things out there in nature that we didn't know existed, it changes who we are," Bruce says. "It becomes transformative."
When class is over, students receive a diploma that not only certifies that they've completed the course but highlights the five most important facts they learned that day. These take-home messages are an important launching pad for a parent-child conversation once the students have left Sanibel, Bruce says. And it's a great way to educate parents too.
"What we're really trying to instill in kids is a passion for discovery and knowledge," Bruce says. "We want them to go away knowing that there's more to discover about the ocean and that they're the ones that can do it – all they have to do is wade out into it."
One of the group's frequent outdoor activities involves paddling surfboards out to a buoy offshore. But the paddlers get much more than a chance at winning the coveted "golden coconut" award in this relay race; they get an intimate experience with a vast, deep ocean that for many of them is a source of fear before it becomes something they want to protect.
Conservation messages are an important part of Sanibel's curriculum. During field trips, students are asked to take five minutes of their time to collect trash from the natural environment. Instructors use this as a learning tool, measuring and quantifying the litter to allow the students to see the impact they made by cleaning up and helping them understand what types of materials are commonly left behind.
"Our goal is to do transformative education," Bruce says, "where it really changes who you are and how you see yourself fitting in to the rest of the environment, to the rest of the world, to the rest of the community."