Santa Cruz named World Surfing Reserve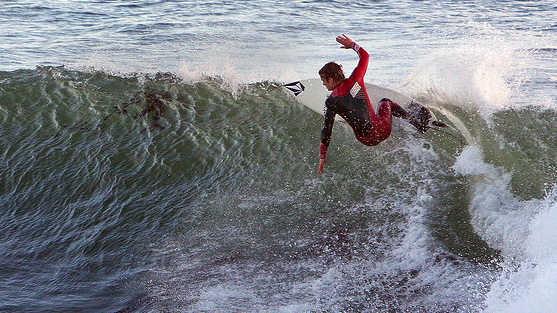 On April 28, 2012, Santa Cruz received international recognition as a World Surfing Reserve– one of only four spots so designated around the globe. Santa Cruz joins Malibu, Manly Beach in Australia and Ericeira in Portugal on the list of honor.
Launched in 2009 by Save the Waves Coalition (based out of Santa Cruz County), National Surfing Reserves (an Australian organization) and the International Surfing Association, World Surfing Reserve's official mission is to "proactively identify, designate and preserve outstanding waves, surf zones and their surrounding environments around the world." World Surfing Reserves are dedicated only after a rigorous nomination and selection process that requires local communities to commit to ongoing monitoring and management, ensuring the surf breaks are protected into the future.
Santa Cruz's application ranked highly on all World Surfing Reserve criteria:
wave quality and consistency, unique environmental characteristics, surf culture and history, and community support. Nearly two dozen surf spots are contained within the seven miles of coast included in the new surfing reserve. These include iconic breaks like Steamer Lane and Pleasure Point to the beginner's spot where I surf whenever I can.
The new Santa Cruz World Ocean Reserve is located within the ecologically rich Monterey Bay National Marine Sanctuary. National marine sanctuaries are special places designed to help conserve, protect and enhance ocean wildlife and habitats. Surfers in Santa Cruz are often treated to up-close and personal experiences with ocean wildlife. Where I surf it's not unusual for a sea otter to be resting in the kelp or a curious sea lion to swim by as I wait for a wave.
Surfing is 20 parts waiting for and one part riding a wave. And the average water temperature in Santa Cruz, California is about 55 degrees. So it's a good thing Santa Cruz is also the birthplace of the modern wetsuit!
If you could nominate a place to be named the next World Surfing Reserve, where would it be? Share your favorite spots below.