Surfing Brings Hope to Veterans and Children with Special Needs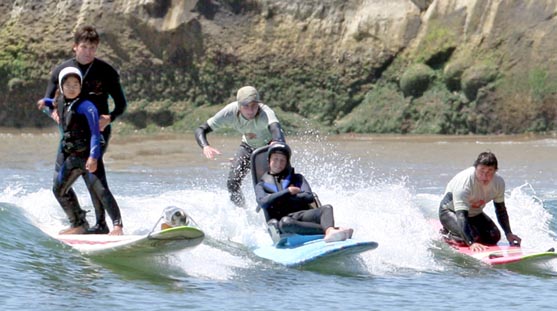 Stoke. Merriam Webster's on-line dictionary defines it as "being in an enthusiastic or exhilarated state." If you already surf you know what it feels like. If you don't, you ought to get yourself to a beach and give it a try.
I live in a surf town so I know that surfers come in a wide range of shapes and sizes – they aren't all young, tan, hard body Bay Watch lifeguards. One of the things I love about surfing is that all kinds of people can do it. When I paddle out at my local break, I can run into anyone from my next door neighbor, to classmates of my second grader, to world famous big wave surfers. All on the same day.
But even I was a bit surprised last week to find myself sharing the line-up with a young paraplegic boy on one side and a couple of wounded veterans with prosthetic limbs on the other. I caught a wave next to a kid who couldn't walk and two guys who had literally given their feet for their country.
The soldiers were in town with Operation Surf, a California based non-profit that takes military amputees into the ocean, assigns them an adaptive surf instructor and a couple surfing volunteer assistants and lets them rip. They had been in town all week and were inspiring us all with their surfing and their attitude. "That was AWESOME!!!" was the main comment of the day from the soldiers. You can view some beautiful photos of Operation Surf's visit to Santa Cruz taken by a San Jose Mercury News photographer here.
The paraplegic boy and several other special needs kids were out with Ride a Wave, a group who's mission is to give children with special needs the chance to feel the thrill of riding a wave and experience a safe, fun-filled day at the beach.  A mission they have achieved with over 2,500 kids since 1998. The little boy sitting next to me was carefully strapped into a specially crafted seat affixed to the front of an extra long, extra wide surfboard steered by a volunteer, expert surfer. He was wearing a helmet on his head, a full wetsuit on his body and the biggest smile you can imagine on his face.
If you haven't tried surfing because you think it's too hard, or too cold, or too dangerous, reconsider. Give it a try. You'll be stoked if you do.