Young Gray Whale Rescued From Fishing Line, Future Uncertain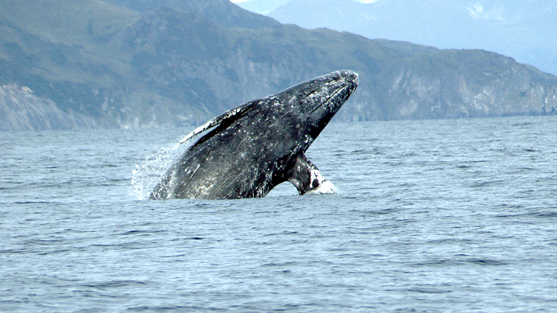 Discarded fishing gear abounds in the ocean. The problem of whale entanglement is, sadly, not a new one. Just last week, a whale tangled in fishing line, net and buoys traveled hundreds of miles from Southern California all the way to Bodega Bay, where fishermen were able to free the huge creature.
The next day, Humboldt County residents anxiously followed a similar story as agencies descended upon Humboldt Bay's southern peninsula in hopes of saving a juvenile gray whale spotted tangled in ropes from drifting crab pots. The Coast Guard, National Oceanic and Atmospheric Association and California Department of Fish and Game, along with help from Humboldt State University professors worked together to free the whale. Local whale expert HSU professor Dawn Goley reported success, but feared the injuries incurred may be too much for the young whale's survival. We're hoping for a happy ending to this sad story.
Those at sea or on the beach who spot a tangled whale are urged to contact NOAA. And to prevent this sort of harm from happening in the future, I urge everyone to help reduce ocean trash, including fishing gear, to protect all species of whales — and every creature inhabiting the ocean!