Genetically engineered salmon: Shouldn't our nation's fish agency have a say in this?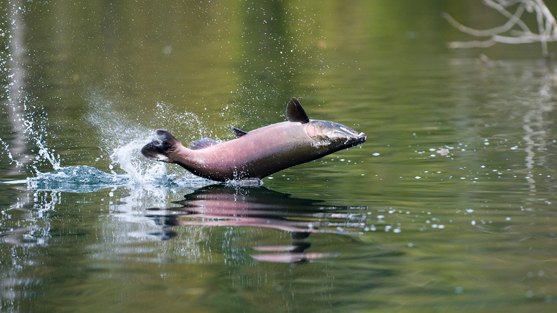 Within the last hour, there was a floor vote on an amendment to S.3187, the Food and Drug Administration Safety and Innovation Act, put forth by Senator Lisa Murkowski from the state of Alaska. Why should you care? Because this has big implications for the future of fish in the ocean and on our dinner plates. To our disappointment, the amendment did not pass. But nearly 50 percent of the Senate supported Senator Murkowski's efforts to protect our wild fish from the risks of genetically engineered fish. That alone is a strong statement.
If you aren't up on the controversy, the FDA is considering approving the first ever, genetically engineered animal for human consumption. This animal is a fish – an engineered version of farmed Atlantic salmon – and that is why Ocean Conservancy and my ocean colleagues have been leading an effort to ensure all the hard questions are asked and answered before the fish is allowed on the market. Today, a group of environmental organizations wrote in support of Sen. Murkowski's amendment. (.PDF)
You can help us in this fight by joining Ocean Conservancy and the Just Label It campaign to tell the FDA to require labeling for all GE food.
FDA's existing regulatory structure fails to take a hard look at this first approval. We are worried about what would happen if the GE fish escapes and enter ocean ecosystems. There are unresolved questions about competition with wild fish for food and space, and even interbreeding with wild fish.
This is why the idea behind Senator Murkowski's amendment is so important. It would ensure that the National Oceanic and Atmospheric Administration (NOAA) – our nation's marine fisheries management agency – has a definitive decision-making role in the process of approving genetically engineered salmon and any other GE fish that might follow in its footsteps. Given that NOAA is the primary federal agency with the management experience and scientific expertise to properly assess the environmental and economic risks of GE fish, we believe it is only common-sense that NOAA has a definitive decision-making role.
As you might imagine, genetic engineering of fish is a new endeavor that demands caution and thorough assessment. The public has repeatedly expressed concern about GE salmon; poll after poll has revealed deep discomfort amongst broad sectors of the population about eating GE animals. Given the potential risks to our ocean environment, it is essential that Congress ensures that the right agencies with the right expertise are asking the right questions.
We are pleased that a large number of Senators agree. It just makes sense that our nation's fish agency has a say in this fish.