Partnering with NOAA, prepping for tsunami debris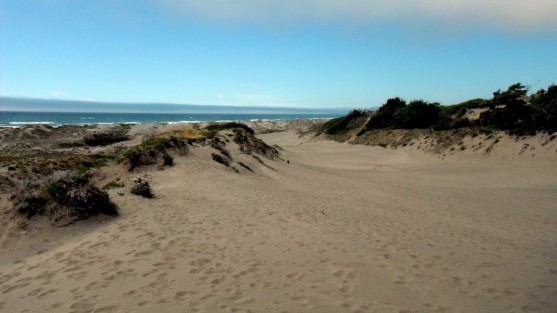 The insect repellent proved crucial as soon as I opened my car door. Mosquitos swarmed – I swear, they'll bite right through my clothes. The Northern California beach we'd chosen for this project lies on the other side of a sand dune forest complete with marshy rivulets. Beautiful, but buggy!
This excursion was the first in a two-year partnership effort designed to establish baseline levels of marine debris prior to that from Japan's 2011 tsunami landing on West Coast shores. The shoreline monitoring program is led by the National Oceanic and Atmospheric Administration, which provided official protocol and observational guidelines as well as more immediately practical materials including a GPS device, waterproof camera and oh-so-necessary bug spray.
When choosing a beach for this project, we needed one that wasn't too popular and not the site of regular clean-ups, but not so remote our volunteers would have to give up most of their day to get there. (We have many hidden beaches along California's wild northern coast.) This particular one lies on the northern end of the Samoa peninsula, on the other side of Humboldt Bay, adjacent to a proposed new marine protected area. Most people chose to visit the southern end of the peninsula, where the ocean is a mere hop over the sandy dunes, instead of hiking through the skeeter-ridden forest.
So it was here that volunteer M.J. Mazurek, an area wildlife biologist and surfer, and I trekked out through the beach pines and huckleberries to one of Humboldt County's more pristine stretches of sand.
Scarcely any sign of people existed. The only bit of trash we noted in our 100-meter swath was one single-use plastic water bottle and a small twist of plastic. Over the next two years, we'll see what arrives across the ocean. If you see something wash ashore that you suspect is tsunami debris, please report it to NOAA at [email protected].