How to help an injured animal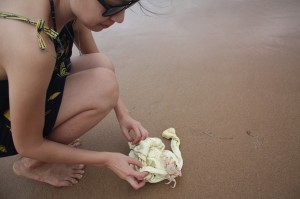 Note: After receiving questions from readers, I have written a follow-up post here.
While on vacation, I came across a crab entangled in a fishing net at a local, beachside restaurant. My time working with crustaceans in science laboratories and in the field gave me the necessary familiarity with their movements and behaviors to handle the animal without hurting it or myself. Armed with this knowledge, I quickly and carefully untangled the piece of fishing net that had wound up tightly on the crab and placed him gently back on the local beach.
Without the proper qualifications, attempting to help a hurt animal in the wild could result in further injury. So what should you do if you encounter an entangled animal at the beach?
In cases of marine crustaceans, I wouldn't recommend picking up a live crab because it's still a wild animal and you don't have to be a biologist to know those pinches hurt. The best way to help them is to reduce the chances of entanglement by keeping trash off the beach. If a crab or other small animal is no longer alive (and it doesn't gross you out), consider disposing of the garbage entangling the animal to protect larger scavengers (such as seabirds) from suffering a similar fate at mealtime.
If you see a sick, injured, or dead marine mammal or sea turtle, please report the animal by calling a stranding center nearest you. Do not touch or move the animal because you could further injure the animal and also hurt yourself. Keep other people and pets at least 50 feet away from the animal because getting too close could stress the animal. Check out The Marine Mammal Center's seven steps to help a stranded marine mammal for more information.
Many animal injuries are preventable. Most importantly, you and I have the power to reduce those injuries. As the summer rolls on, remember to properly dispose trash (including fishing lines), admire wildlife from a safe distance and enjoy the water!