5 Questions with Photographer Marc Shargel on Wonders of the Sea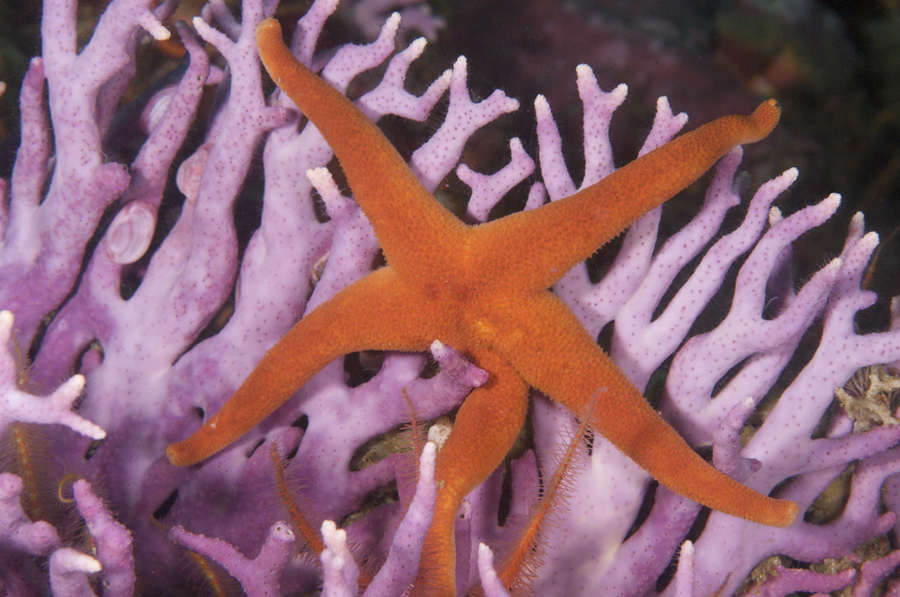 Page through Marc Shargel's three-book series "Wonders of the Sea" about California's coast and you'll be awed by both the human history and the natural history told through photographs and stories. An award-winning photographer, Shargel learned to scuba dive while studying marine biology at Stanford's Hopkins Marine Station in Pacific Grove. He has been diving for more than 30 years, from lush kelp forests to isolated offshore pinnacles, and observed many changes. To celebrate California's network of marine protected areas, Marc shares some of what he's seen through his lens.
Catch the interview and more amazing photos after the jump.
1. Which marine plant or animal do you most like to photograph underwater, and why?
All of them! But one subject I photograph over and over is kelp. Even though I have hundreds of pictures of kelp, I'm always inspired to interpret it in new ways.
And there's always a chance of finding one of the dozens of little critters that live in the kelp forest, like a snail we have here that is unbelievably gaudy – it's got spiral bands of gold and purple. Frequently, I'll seek out one of those and see if I can do a better job of lighting or framing it.
2. What are some of the biggest changes you've observed in the ocean over the past 34 years?
From black abalone to many kinds of fish, things are disappearing. I did my first scuba dive at the Monterey breakwater in 1978. I saw schools of blue rockfish swimming through the kelp. This is a spot where people can drop fishing hooks right over the dive site, and since my first visit 34 years ago, blue rock fish have become a very rare sight. All the fish there are small ones that haven't had a chance to grow to full size.
In farther-away places with less boat traffic and less fishing, we still see big schools of small to medium-size blue rockfish. However, the really large ones can only be found in the most inaccessible locations—or in the marine reserve at Point Lobos where they are completely protected. The good news is, reserves work and we've added several recently.
3. Can you give an example of what inspires you to actively support marine protected areas?

One poster-child species for marine protected areas is the extremely slow-growing yellow-eye rockfish—a strikingly beautiful fish. I was years into my diving career before I caught sight of one. I went out to Point Arena in Mendocino County where this incredible rock comes up from the ocean floor, put on my gear and started down the anchor line. Swimming up the line as if to greet me was my first yellow-eye.
I got to the bottom and it was chock-a-block with them. I've never seen a mature one anywhere else. When a suite of marine protected areas along the north central coast went into effect in 2010, that rock and all the life there was protected.
4. Why do marine protected areas around the world draw divers and photographers like you?
We love them, because marine reserves teem with ocean life. Their robust communities of marine life are more resistant to human impacts and natural disasters. For instance, in the wake of the 2004 tsunami in the Indian Ocean, coral reefs inside a marine protected area in Sri Lanka appear to have been more resilient than other areas where damage was much greater.
5. What kinds of experiences can families enjoy along the California coast?
I'll tell you a story that took place in front of Cannery Row on Monterey Bay several years ago. I took my nephew out on a two-person kayak through the kelp. We had the good fortune to spot a small group of dolphins quite close to shore. He put on a wetsuit and mask, stuck his face in the water, and got an instant appreciation of the incredible density and diversity of the ecosystem.
The highlight came at the end of the day: A sea otter. These animals were driven to the brink of extinction a hundred years ago and made a comeback. This one came right by and checked us out. And then it climbed up onto the boat. For a couple of minutes, there were not two of us on the kayak, but three! That day inspired my nephew to spend the better part of his time in college studying marine biology. For me, he represents the generations to come, the people who will inherit the natural world we're now stewards for.
Get Involved on the Issues
Interested in learning more? Subscribe to our RSS feed or give us your email using the simple form below and we'll make sure you get the latest on ocean wildlife and all the important ways you can fight for a healthy ocean.