Going for the Green at the London 2012 Games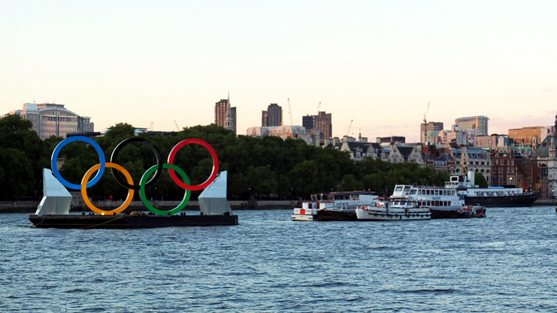 Every four years the largest gathering of athletes, spectators and media converge to witness the greatest athletes on the planet compete in the Summer Olympiad. It's difficult for most of us to grasp the skill, strength, endurance, devotion and sacrifice that each Olympian demonstrates, but at the London 2012 Olympic Games the athletes are not the only ones performing impressive feats. The London Organising Committee of the Olympic and Paralympic Games (LOCOG)  embarked on an equally impressive mission: to make the London 2012 Summer Games the most sustainable Olympic Games to date. Central to this mission is the goal of achieving Zero Waste.
London 2012 is the first summer Games to aim to send zero waste directly to the landfill. With almost 15,000 athletes, 11 million ticket-holders and hundreds of thousands of reporters and media exploring the city and attending Olympic venues, recognizing this goal is a gargantuan task. During the planning process, LOGOC employed a waste hierarchy to govern disposal of materials. They avoided the lowest ranking, "disposable," and aimed for materials they could reuse or recycle. "Preventing/Avoiding" ranked at the top of the hierarchy.
As a result of this structure, not a single item of trash from the Olympic park will go directly into a landfill; instead, every item of trash will be used as a renewable or recyclable resource. This policy has governed all aspects of planning of the including construction of Olympic Stadium, where 90% of waste generated was diverted from landfills via recycling or reuse.
Food waste has not been overlooked either. An estimated 14 million meals will be served during the Games and anything not eaten will go to compost. The footprint of the food itself was also considered and all 82 million tonnes of seafood consumed at Olympic Village have been certified sustainable to demonstrate its affordability and achievability. The ultimate goal is to name London a 'Sustainable Fish City.'
On the world's biggest stage with all eyes watching, London has taken on a trash challenge to show the world that reducing our waste is not a lofty, blue-sky goal. As the Thirtieth Olympiad begins winding down, we eagerly await the final trash tally to see if LOCOG achieved its zero waste goals. Regardless of the outcome, we should all commend the LOCOG for trying to deliver a Zero Waste Games that demonstrates exemplary resource management practices and promotes long-term behavioral change on a stage with unrivaled culture and consumption.
Succeed or Fail, when the closing ceremonies come to an end  the LOCOG will have left an important legacy for environmental sustainability for the United Kingdom, the Olympic Games and countries around the world.