Hooked a Friend on Conservation Yesterday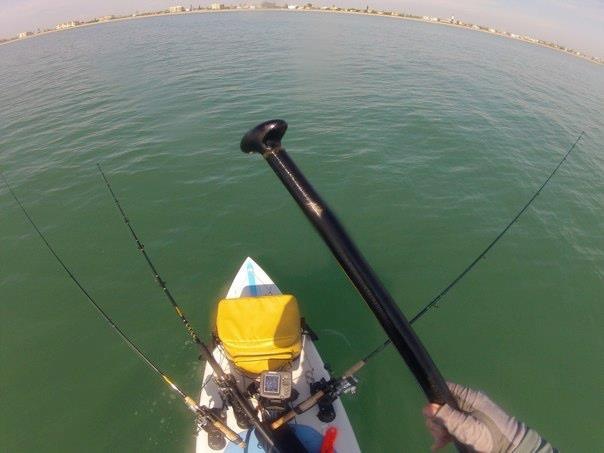 As a die-hard surfer I've picked up just about every kind of board to surf with and one of my favorites is a Stand Up Paddle board (SUP). Recently, my long time "surf brah" Kevin swung over from Orlando wanting to enjoy some small wave fun here in Cocoa Beach but the tide came up and, well, the surf didn't look to good.
No problem! I grabbed the fishing poles, threw the boards on the truck and we headed over to the Banana River. Kev had been going on flat water crusies every since I gave him a "bro rate" on my old SUP when I stepped up to a new one. Yet he'd never wet a line from one — it was time to change that.
We headed over to my local park that had two boat ramps and a dedicated kayak/SUP ramp, specifically made with a fabric liner so not to damage the numerous yaks and SUPs dropping in the water these days like a concrete boat ramp will do. There were 6 other people launching so we waited our turn to head out into the 1000 Island chain – a great spot for catching redfish, snook, speckled trout and when you're lucky a fun, fighting tarpon.
Like most folks, Kev was completely unaware that it was likely tax dollars from fishing licenses, gear and boat fuel sales that paid for the park boat ramps and the state biologists to study the fisheries we were fishing. The U.S. Fish and Wildlife Service administers an industry supported Sportfish Restoration Program where a surcharge is added to items related to fishing and the money goes back to the states to ensure we have both abundant fish and wildlife as well as access to sustainably enjoy them.
And enjoy them we did. We paddled over 5.5 miles twisting and winding through islands often fishing the mangrove banks with the wind at our backs. We saw ospreys, manatees, redfish and mullet galore. We had a grand time messing with some poor man's tarpon – a school of ladyfish busting all over some bait fish.
Kev kept telling me, "My wife is going to be missing me now that I've learned to fish from this SUP." Which isn't a bad thing – each time he buys a little piece of gear, some bait to take with him, or renews his fishing license, a piece of that purchase will circle back toward the management and use of a priceless resource.
If you're interested in getting out and trying some fishing, the Recreational Boating and Fishing Foundation's www.takemefishing.org has everything you need to know on where and how to go fishing near you. Fresh water, salt water, back bay, heck even ice fishing! Don't forget that fishing license, think of it as the best conservation tool in your tackle box.