Start your own Rippl™ Effect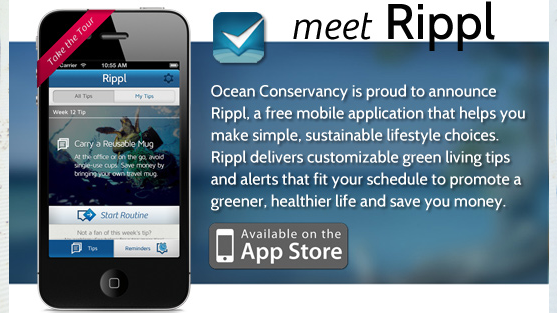 "What else can I do?"
We've heard this question thousands of times from volunteers following the annual success of the International Coastal Cleanup. People get out to their local beach, river, or even in their neighborhood and see the magnitude of the trash problem and want to know what else they can do. We always encourage volunteers to participate in other organized cleanups throughout the year and to think about how they can reduce their impact on the ocean and waterways by consuming fewer one-time use products.
Until now, these recommendations are all we've been able to offer…NOT anymore.
After 12 months of a user-focused design process and intensive group testing with volunteers, coordinators, ocean enthusiasts, families, and young professionals, Ocean Conservancy is very excited to announce our first mobile app, Rippl.  We're energized as much about what Rippl is and will continue to become as we are about the journey we took to get here.
What is Rippl? 
Rippl is a free iPhone application that helps you make sustainable lifestyle choices by delivering weekly green living tips that you can then adapt to fit your busy schedule and needs. Each tip comes with the ability to set up customizable alerts and is designed to conveniently help transform your habits, save you money and live a greener, healthier life by reducing your trash impact.
Always forgetting your reusable bags? Rippl will remind you to grab them before you leave the house. Spend too much on coffee at the local coffee shop? Rippl lets you know when bringing your own mug can get you a discount. This is your first step in forming habits that will save you money and grow a healthy planet by keeping trash out of our landfills and waterways.
Why did we build Rippl? 
One of the biggest pieces of feedback we received from people throughout the course of the last year was that they often know what they can do to help the environment and our ocean, but they forget or it's inconvenient. So we set out to help first make it easier to remember and second, provide convenient ways to implement these green habits into each of our daily lives. These behaviors build on each other over time, gradually creating a daily set of habits that allow users to live simpler, more fulfilled lives while helping the ocean.
What should you do? 
Download Rippl!
We're confident that we're building a community of everyday activists that who are trying to live a more reusable lifestyle, growing a healthy ocean and a healthy planet in the process.
But, this is only the first step. The app will continue to evolve – including building an Android version – as feedback comes in so that it truly can be a tool that suits the needs of its users.
Have a suggested tip? Send it to us! Want to see additional features in the app? Let us know and we'll develop them out! This is as much a tool to help your daily routine get easier, as it is a tool for us to collectively reduce the amount of trash that could end up in our ocean.
Ready to start your own Rippl effect? Download it today, invite your friends and family to join you, and tell us what you think!
Get Involved on the Issues
Interested in learning more?  Subscribe to our RSS feed or give us your email using the simple form below and we'll make sure you get the latest on Rippl and all the important ways you can fight for a healthy ocean.