Restoring the Gulf of Mexico by Pointing Baby Turtles Back to Sea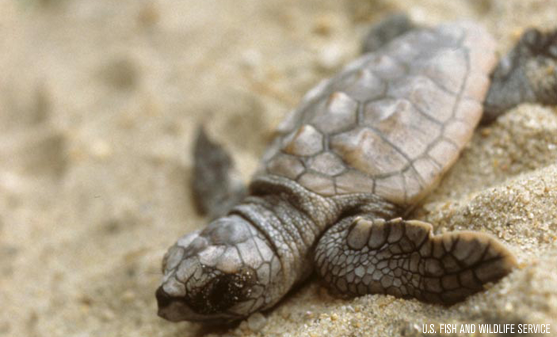 Have you heard that Coast Guard officials recently confirmed an oil slick found in the Gulf of Mexico last week matched oil from the Deepwater Horizon disaster? Indeed, while the BP spill may be a distant memory to some, the Gulf still feels the effects today. The Coast Guard has said the oil slick "does not post a threat to the shoreline," but it will certainly affect the Gulf's offshore waters, which are just as vital to the region's overall health.
In my latest Huffington Post piece, I weigh in on the threats this oil continues to pose in the Gulf and discuss the ways Ocean Conservancy continues to work toward marine restoration in this important area. One project helps point baby turtles back to sea:
Sea turtles are at sea for most of their life cycle, but they return to beaches in Texas, Alabama and Florida to lay their eggs. Although the Deepwater Horizon oil spill harmed turtles, we can help them recover by taking steps on the shore to protect their nesting habitats.

Bright lighting from beachfront residences, parks and piers may mislead hatchlings who may follow the bright lights and travel in the wrong direction, away from the water — with deadly results.

By retrofitting existing lights near beaches with lights that are dimmer or have filters or shields that help keep the beach dark, we can help more baby sea turtles reach their ocean habitat and have the chance of surviving to adulthood.
Efforts to protect sea turtle nesting habitats provide multiple benefits, including helping local economies that depend upon tourism. Read the whole piece on Huffington Post for more information.