Dumpster Diving: What We Leave Behind on the Beach Reveals a lot About Us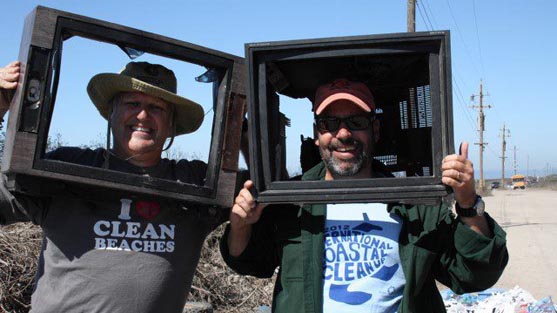 I recently started writing about ocean views over at the National Geographic News Watch blog. My first post explores the trash we found during this year's International Coastal Cleanup and what we learned during a subsequent research project dubbed "Trashlab." As you might expect, the things we leave behind on the beach reveal a lot about our society as a whole. As I write in my post:
Bags from some of the beaches were bursting with bottles and cans of every variety. Beaches in the more rural northern portion of Santa Cruz County are well known by locals as "party beaches" and the trash left behind certainly confirms it. Beer is the clear beverage of choice but interestingly, brews range from the cheapest of swill to the finest of local microbrews. It appears that beer drinkers are equal-opportunity litterers. I expected beaches in the more populated areas, frequented by families and tourists might be cleaner, but only the nature of debris, not quantity, changed. Food wrappers of all types – from fast food takeout containers to every possible variety of potato chips, cracker, candy and other snack food were plentiful. It was clear – folks don't come to the beach to eat health food.

After we removed and weighed these and the other obvious items, a mass of unidentifiable junk, including large amounts of plastic fragments, remained. The conclusion was apparent: pretty much anything you can imagine will, unfortunately, be found on the beach.
Read more on what we learned about ocean trash and what we can do to stop it at National Geographic News Watch. You can also follow my posts here.