New Photos Serve as Graphic Reminder that Gulf Wildlife Needs Help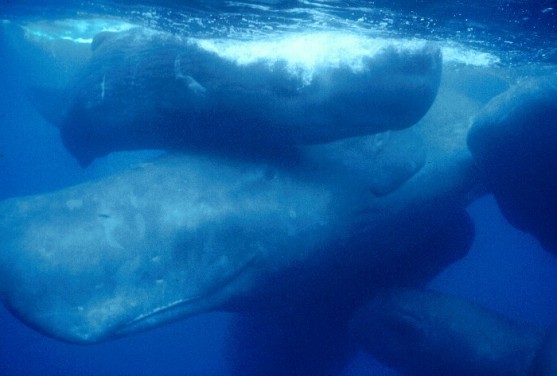 NOAA recently released several photos of a dead sperm whale found in the Gulf of Mexico just a few months after the BP Deepwater Horizon oil disaster began. While NOAA's scientists were unable to determine the cause of death, this story does serve as a very graphic reminder that more must be done to protect the marine life in the Gulf.
This whale is one of two dead sperm whales that have been reported in the oil spill area of the Gulf. Two whales may not seem like much, but sperm whales are a federally listed endangered species in the United States, and even a small number of deaths could seriously impact their population.
Sperm whales, which can live up to 70 years, can be found year-round in the northern Gulf, and they are especially common near the Mississippi Canyon, where the Deepwater Horizon oil rig was located. Sperm whales spend most of their time in deep water, diving to the ocean bottom to snack on giant squids and other ocean creatures. With all that diving throughout the water column, it's possible the whales were exposed to oil or dispersants. The hustle and bustle of oil spill response activities can be equally harmful.
Should we be worried? Researchers across the country are monitoring the effects of BP's oil on a variety of important species in the Gulf of Mexico, from seabirds and vital fish populations to blue crabs scuttling along the seafloor. These impacts tell us a lot about the Gulf's health following the BP Deepwater Horizon oil disaster. Using this information, Ocean Conservancy can ensure the restoration of this national treasure and protect marine life for the future of the Gulf and the communities who depend on it.
Luckily, solutions exist. There are great marine restoration projects that are necessary for the recovery of sperm whales and other key species, such as a large-scale tagging program for marine mammals, sea turtles and seabirds. A project like this can help to improve estimations of population size, identify movement patterns, determine mortality and reproductive rates, and to take the pulse of the Gulf to see if we are really recovering from the BP oil disaster.
This is just one of the few projects Ocean Conservancy and other marine experts across the Gulf Coast have identified that can help to turn the tide on the long-term degradation of the Gulf and set us on the right course to a full recovery. If you'd like to learn more about how we can restore the marine environment in the Gulf of Mexico, check out our "menu" of marine restoration options.