Why BP's Criminal Fines Are Just the First Step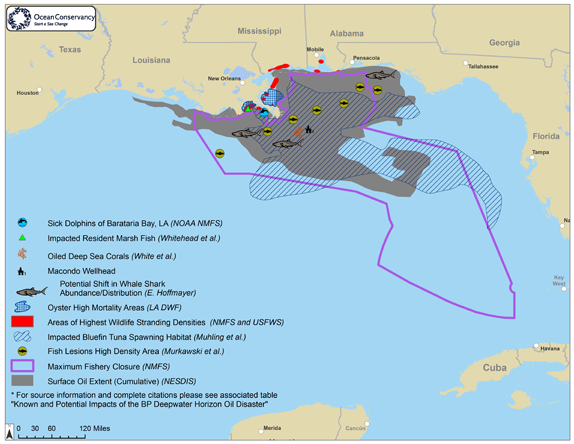 Just a few examples of the off-shore impacts of the BP disaster
Big news today.  BP will pay record criminal fines resulting from the BP oil disaster. This is a step forward in settling all of BP's debts to the Gulf Coast citizens who deserve for BP to be held fully accountable to the maximum extent of the law.  BP pleading to criminal charges, before a global settlement is reached, is some vindication for those who deserve to know the truth about why this disaster occurred. We are approaching three years since the rig explosion, and you don't have to look far to see that people are still suffering the effects of this tragedy turned environmental disaster turned economic disaster.
However, this is not the end of the road.  Not by a long shot.
BP still needs to answer for their gross negligence and while these record criminal penalties are a step forward, they do not pay for the damage BP has done to the broader Gulf community.   We were pleased to see Attorney General Eric Holder today (just a few floors down from our New Orleans office) make it very clear that he intends to prove in court that BP was grossly negligent in allowing a vast amount of oil to gush into the Gulf—a legal definition that carries the highest civil penalties under the Clean Water Act.
It's an important step for BP to accept responsibility for the deaths of 11 workers on the first day of this tragedy and it sets the stage for BP to continue to be held accountable with record fines, especially in regard to the amount of money directed to the Gulf through the RESTORE ACT in order to fully restore Gulf Coast communities, and both the coastal and marine environments.
It's also good news that some of the criminal fines announced today will be directed to the National Fish and Wildlife Foundation and National Academy of Sciences.  This will provide some good opportunities to begin making the Gulf whole.  But that money is different from the civil fines BP should pay under the Clean Water Act, which would be directed to the RESTORE Act passed earlier this year.  BP still has much to answer for and the criminal settlement will not come close to making up for the damage BP is responsible for in the Gulf of Mexico.
It's unfortunate that we have to wait for a trial that doesn't start until next year to hold BP fully accountable.  But this is progress and there is work happening now through early restoration that is moving us closer to recovery. As we move forward, we must not forget the off-shore environment, where this disaster began.  Restoration of the Gulf requires an approach that addresses marine resources as well as coastal environments and Gulf communities. The nation must commit effort and money to address all three in order to achieve a resilient, healthy Gulf with a sustainable future.
No amount of money will change the fact that 11 men lost their lives, and I for one can't find the heart to celebrate the closing of another chapter in the oil disaster. But I am optimistic that this criminal settlement sets the tone for a final trial resolution that will recognize and compensate the people of the Gulf for all that has been lost. We deserve nothing less.