It's Not My Fault I'm a Butt Guy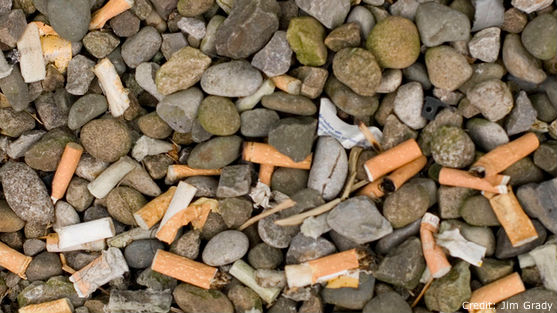 It's impossible not to be if you work in the ocean trash world. Every year International Coastal Cleanup volunteers pickup more cigarette butts off our beaches than any other item by an order of magnitude. Since the Cleanup's inception in 1986, cigarette butts have been the number one item on Ocean Conservancy's annual Top Ten list, which highlights the most persistent items of ocean trash found globally. And while 2012 Cleanup data are still being compiled, I suspect cigarette butts will retain their title for another year.
What's the big deal you might ask? Well inside each of those butts is a filter—unfiltered cigarettes excluded—made of cellulose acetate, a slow-degrading plastic. These plastic fibers are packed tightly together to create a filter, which often resembles cotton in appearance. So even though Cleanup volunteers have kept more than 55 million cigarette butts off beaches and out of the ocean over the years, the ultimate fate of these tiny plastics is still the landfill because there's simply no value in a butt…or is there?
This week TerraCycle and Santa Fe Natural Tobacco Co., the maker of Natural American Spirit cigarettes and a subsidiary of R.J. Reynolds Tobacco Company, announced a partnership that gives a second life to butts. The partnership creates a take back system through TerraCycle's Cigarette Waste Brigade program, where butts are recycled into resin pellets that will then be used to manufacture a verity of industrial products, such as plastic shipping pallets and park benches. Any tobacco or organic material remaining from the cigarette butt will be re-worked into tobacco composting.
The Cigarette Waste Brigade initiative underscores the notion that trash is simply too valuable to toss. It also emphasizes the fact that everyone has a role to play in stopping ocean trash. An issue as pervasive as ocean trash requires cooperation from corporations, organizations and consumers at large. For consumers, reducing consumption and choosing reusable and alternative products is the best option, but in circumstances where no alternatives exist—like cigarette butts—ingenuity and commitment from industry are necessary. Just as consumers have a responsibility to properly and responsibly dispose of items, industry has an obligation to ensure a product does not simply become trash at the end of its life.
Our landfills have had enough. The time has come to commit ourselves to diverting waste from the ultimate burial ground, and make certain we renew a products life whenever possible.
And in the case of cigarette butts, it seems only fitting that the park bench you or I might park our rears in the near future is really just a bunch of old butts.