We Have One Gulf and One Chance to Make it Right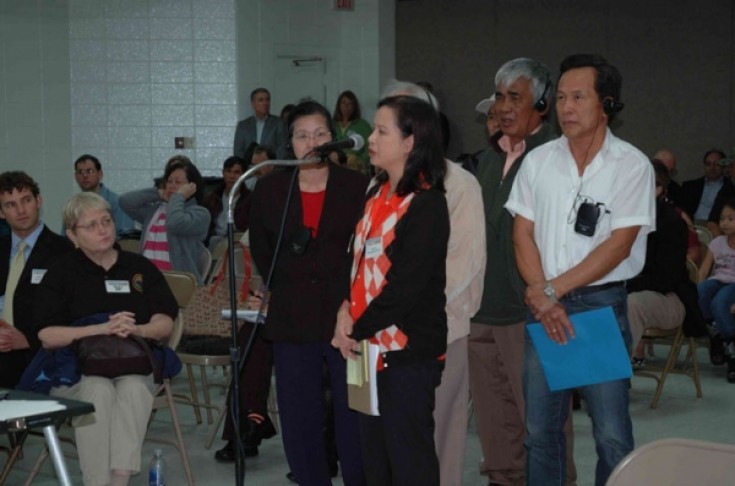 Credit: NOAA
As someone who's worked in the Gulf region on environmental issues for years now, it sometimes seems like I'm up to my neck in plans and meetings. But now there is a real chance to work together to restore Gulf and its communities, and you can be part of the solution.
"The Path Forward to Restoring the Gulf Coast" is the first iteration of a plan to restore the Gulf Region that has been released by the Gulf Coast Ecosystem Restoration Council in anticipation of potentially billions of dollars that are coming to the Gulf Coast as a result of the BP Deepwater Horizon oil disaster. The Gulf Coast Ecosystem Restoration Council was created by the RESTORE Act, a bill that directs a significant portion of the Clean Water Act fine money paid by BP and other responsible parties to be used to restore the Gulf ecosystem. This is the first time that such a large amount of money has been dedicated to restoring the Gulf's environment.
Over the next several weeks the Restoration Council will be convening a series of public meetings throughout the region to hear from citizens about what they think restoration and protection of our resources should look like. They will develop a comprehensive plan to address the decades of ecosystem challenges in the Gulf region and provide a blueprint for citizens, environmental organizations, fishermen, scientists and elected officials to work together to restore our environment and economy to an even better condition than it was before the oil disaster.
This is where you come in. This is a once-in-a-lifetime opportunity to make the Gulf of Mexico a better place than when we inherited it. Your voice is important if we are going to protect and preserve this incredible place, not only for ourselves but for future generations.
This particular plan is our big chance. Ocean Conservancy believes we must create the best restoration plan possible and we are asking the Restoration Council to include in their plan:
Multiple outlets for public participation
A comprehensive, integrated restoration strategy
A supporting science program
I hope you'll join Ocean Conservancy and our partners at one of these public meetings in your area in the next several weeks:
Tuesday, February 19
Louisiana – 5:00 PM CST
Terrebonne Civic Center, 346 Civic Center Blvd., Room 3, Houma, LA
Mississippi – 5:00 PM CST
Mississippi Coast Coliseum and Convention Center, 2350 Beach Blvd., Biloxi, MS
Wednesday, February 20
Louisiana – 5:00 PM CST
University of New Orleans, Homer Hitt Alumni Center Ballroom, 2000 Lakeshore Drive, New Orleans, LA
Thursday, February 21
Louisiana – 5:00 PM CST
Lake Charles Civic Center, Jean Lafitte Room, 900 Lakeshore Drive, Lake Charles, LA
Thursday, February 28
Florida – 6:00 PM CST
Student Union East Conference Center, Gulf Coast State College, 5230 W. U.S. 98, Panama City Beach, FL
Please email us at [email protected] if you'd like to let us know you're coming to any of the above meetings, or to get more information on upcoming meetings in other states. To learn more about Ocean Conservancy's vision for Gulf restoration, please check out our website.