Innovation at the Miami Boat Show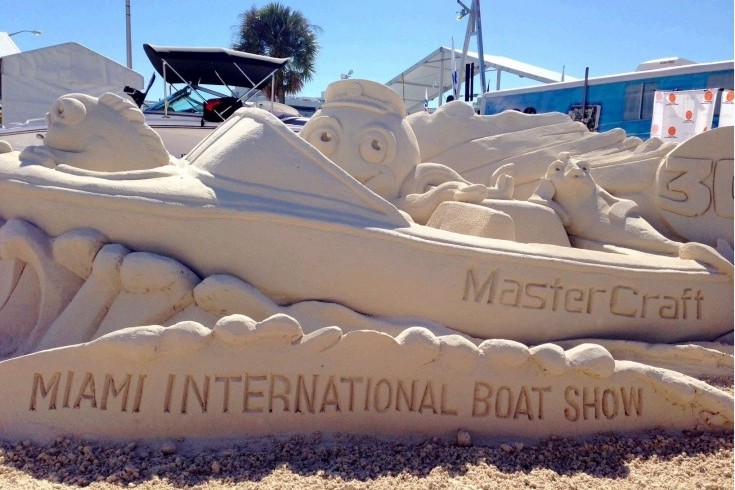 Being a waterman who has owned boats ranging from catamarans to skiffs throughout my life, I always look forward to the Miami Boat Show — a premier event each year for those of us who love the salt life.   Thanks to the generosity of the National Marine Manufacturers Association (NMMA), Ocean Conservancy was granted a complimentary booth at the show to share our GoodMate "Charting a Course to Clean Water" program made possible by the Brunswick Foundation.
It was inspiring to see the advancements and mindset of the boating and salt life community toward conservation  on display throughout the show.
I particularly enjoyed meeting Al Baurley, President of Arid Dry Bilge Systems, and a native of my old haunt of Pompano Beach.  Al has created an ingenious system that filters engine fluids from a boat's bilge water,  reducing hydrocarbon traces to 1 part per million(ppm), well below the 15ppm government standard.
Cutting edge technologies were on display as well and NMMA deserves credit with their "Innovation Awards" competition.  Torqeedo of Starnbeerg Germany was the 2013 winner with their new "Deep Blue" high powered, all-electric outboard engine.   As a fisherman who has to power almost 20 miles offshore to reach fishing grounds, the idea of saving fuel appeals to me.  As a conservationist, it's inspiring to see a vessel that doesn't have the same footprint as a traditional gas-powered boat on the  delicate resources of the marine environment.
Just as impressive was Lehrs propane powered outboard motor and the recycled plastic Global Dock.  Lehr received the EPA Clean Air Excellence Award for their technology and I'm glad to see the trend toward alternative fuels that are safer for the marine environment in case of accidental spillage.  Global Dock is another positive trend — complete marina designs utilizing floating dock made entirely of recycled material.
It was a ton of fun to tour the show, greet Ocean Conservancy members, cross paths with Alberto Ruiz the  International Coastal Clean Up Coordinator from Puerto Rico, get thumbs up and waves from folks concerned for our oceans and the sincere thanks many gave for what the Ocean Conservancy team does for the big blue.