Let the Sun Continue to Shine on Fishery Management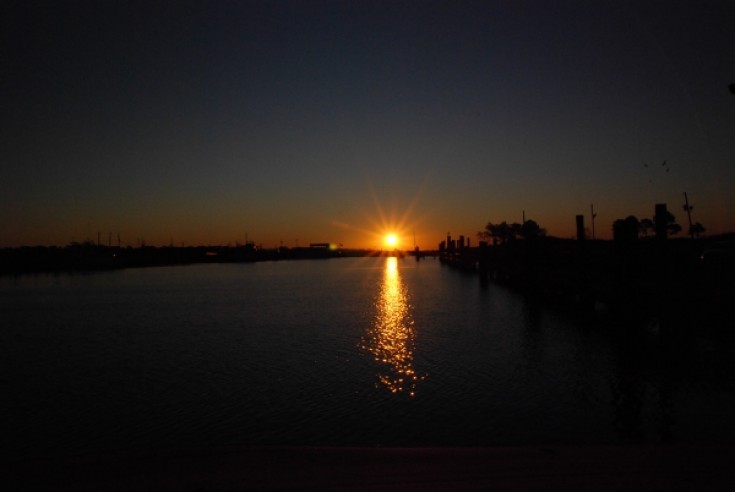 Sunrise over fishing boat docks in Bayou La Batre, Alabama. Bethany Kraft / Ocean Conservancy
Sunshine Week is upon us! Sunshine week  (March 10-16) is a national initiative to promote a dialogue about the importance of open government and freedom of information. Participants include news media, civic groups, libraries, nonprofits, schools and others interested in the public's right to know.
Governing in the sunshine is especially important for sustainably managing our nation's fishery resources. Every year, fishery managers make decisions about how to manage fish populations, and they rely on input from fishermen, scientists, community groups and others to help make smart choices. Information gathered on the water about what fish are caught, where they are caught, and interactions with other ocean wildlife is essential for the public to understand how fish populations are being managed and how those decisions affect ocean ecosystems. Access to this information is necessary for everyone, including fishermen, to participate effectively in the management process, and to ensure that our fisheries are managed responsibly and sustainably for the benefit of present and future generations.
However, public access to fishery management information is currently being threatened. The National Marine Fisheries Service (NMFS) is considering sweeping changes to its rule regarding confidentiality of information under the Magnuson-Stevens Fishery Conservation and Management Act (MSA). Unfortunately, it's the opposite of governing in the sunshine. The proposed changes would unnecessarily stifle public participation in the management of public trust ocean resources, including depleted fish populations and protected species. The proposed rule would take the unprecedented and unwarranted leap from protecting personal privacies to withholding basic required information from the owners of the resource: the public. As currently written, the proposed rule could make nearly all essential fisheries data inaccessible to the public, and would prohibit access to critical information that forms the fundamental basis for fishery management decisions. The rule is still pending.
Our nation's ocean wildlife and fish are public trust resources managed on all of our behalf by NMFS. These resources belong to the American public, and the entire nation has a stake in the jobs and revenues generated from them. U.S. fish populations alone support hundreds of thousands of jobs in the tourism, fishing and seafood industries. Commercial and recreational fishing generates $183 billion per year for the U.S. economy and supports more than 1.5 million full and part-time jobs. Moreover, millions of taxpayer dollars are invested each year in fisheries management including the collection of data by professional observers on fishing vessels. As noted by the Sunlight Foundation, this rule change would restrict access to information from publicly-funded fisheries observer programs, which are funded to the tune of some $40 million each year.
NMFS should withdraw this flawed proposal and replace it with one that ensures public access to fisheries information. The desire to streamline the federal fisheries data processing system is laudable, but the proposed rule presents an unjustified expanded cloak of secrecy that could undermine transparency and stifle public participation. In honor of Sunshine Week, we must continue to urge NMFS to preserve public access to fishery management information as the law intends. A new proposal must preserve transparency, participation and collaboration so that researchers, scientists and members of the public can contribute to the successful management of our nation's publicly owned ocean resources.