Make Way for Whales: Shifting California Shipping Lanes A "Win-Win"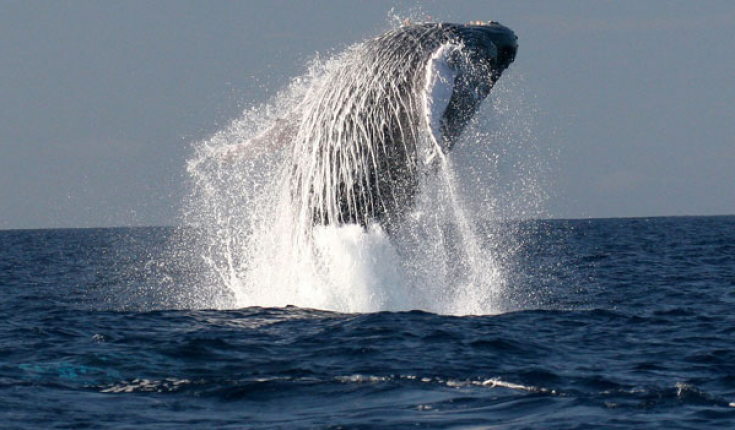 Humpback whales stay near the surface of the ocean during migration and prefer shallow waters near the coastline.
Credit: NOAA
Few things beat the sight of whales migrating off the California coastline. And with increased research and recent changes in shipping practices, whales will be able to travel a bit more safely in 2013.
In a move that improves business and protects marine life, the International Maritime Organization has agreed to shift shipping lanes located off the California coastline and thereby reduce whale strikes. Findings published in this month's issue of Conservation Biology emphasize the benefits of this agreement, which will enhance the protection of endangered whales and increase maritime safety.
These changes follow the plan announced last summer to reroute shipping lanes outside the San Francisco Bay and establish a real-time whale monitoring network to decrease whale strikes and improve shipping operations. With a spike in whale strikes outside the San Francisco Bay in 2010, researchers collaborated with NOAA, the US Coast Guard and the maritime industry to evaluate current shipping lanes and confirmed that the busy lanes overlapped critical feeding grounds and designated marine sanctuaries.
Modifications to shipping practices include narrowing the width and extending the northern shipping lane to lead ships away from the Cordell Bank National Marine Sanctuary located off the Marin County coastline. Southern California will see similar changes later this year with the shift of the southbound lane in the Santa Barbara Channel to mitigate risks in the Channel Islands National Marine Sanctuary and with modest changes to lanes approaching Los Angeles and Long Beach harbors.
Massachusetts experienced an 81% reduction of whale strike risk in the Boston Harbor after making similar lane changes and improving whale monitoring practices five years ago. By integrating data and increasing coordination among federal agencies, port authorities and the maritime industry, the harbor created simple solutions to mitigate an unnecessary problem. Port officials hope to see the same effect in California.
"This effort was championed in a real collaborative way and everyone is in sync on this. We agree this is a win-win situation," said Kristin Decas, Port Director and CEO for the Port of Hueneme, located between the ports of Santa Barbara and Los Angeles.
Coordinated maritime activities like these establish a strong platform for statewide and regional planning efforts to reduce conflicts and preserve critical marine ecosystems. And California is well on its way to enhancing its ocean management capabilities with California Assembly Bill 2125 enacted in 2010 and through the state's participation in the West Coast Governors' Alliance to create a science-based framework, increase the amount and accuracy of data, and balance ocean uses through informed decision-making.
California has shown great commitment to ocean health, and with ongoing data collection, ocean monitoring and collaboration among ocean industries and managing agencies, the state can continue to improve the way it conducts business and simultaneously protect marine wildlife.
As John Berge, vice president of the Pacific Merchant Shipping Association, has said: "Nobody wants to hit a whale, just like anybody driving down the highway doesn't want to hit anything either."