A Chance to Start Paying the Ocean Back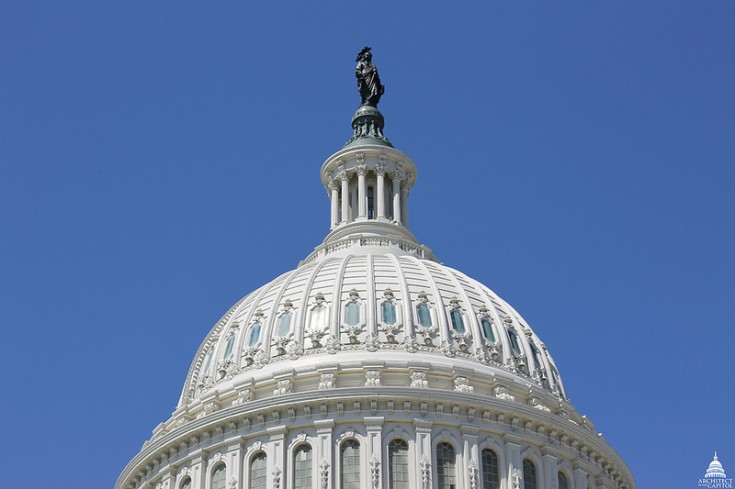 credit — Architect of the Capitol
UPDATE:  Good news! The Senate voted this afternoon FOR the National Endowment for the Oceans amendment with a bipartisan vote of 68-31.  Read on for more information.
Votes are taking place in the Senate today that could play an important role in the future of clean water and our ocean.
The oil spill in the Gulf of Mexico, Superstorm Sandy, and the influx of marine debris from the Japanese tsunami have focused the American public on the ecological and economic value of our ocean and coastal resources like never before. Whether your interest is in protecting species like marine mammals and sea turtles, providing opportunities for beachgoing and recreational fishing, or supporting vibrant coastal communities, a healthy ocean matters. Given the environmental and economic importance of marine and coastal ecosystems, we should be investing more in monitoring, researching, protecting and restoring the vitality of these systems. We should be facilitating their ability to adapt to long-term change and their resilience so that they can better recover when disasters happen, whether man-made or natural.
The National Endowment for the Oceans and Great Lakes (NEO) is going to be voted on this afternoon as an amendment to the Water Resources Development Act or WRDA (S. 601).   Ocean Conservancy has serious concerns with WRDA as currently written, and efforts are being made to improve the bill.  While that it is happening, it is vital that we take the opportunity to underscore the importance of the National Endowment for the Oceans.
The NEO amendment would create a permanent federal endowment that, once funded, would provide a steady funding stream that states, universities, communities, and government agencies can count on to support ocean and Great Lakes research and restoration projects.  These investments will ensure that present and future generations benefit from the ecological, economic, educational, social, cultural, spiritual, nutritional, and recreational resources of our oceans, coasts and Great Lakes.
Here are a few key facts about the National Endowment for the Oceans:
The endowment would be administered by the Secretary of Commerce and the National Fish and Wildlife Foundation (NFWF)
The endowment would distribute funds through two grant programs for activities to restore, protect, maintain, or understand the resources of the ocean, coasts and Great Lakes.
The grant programs include formula grants to coastal and Great Lakes states, and a nationally competitive grant program.
The grant programs established in the Endowment would fund projects to restore, protect, maintain and understand U.S, oceans, coasts and Great Lakes, including:
Restoration of wetlands, coral reefs, sea grass beds and watersheds
Mapping, monitoring, observation and modeling of ocean, coastal and Great Lakes systems
Adaptation to the impacts of climate change and mitigation of coastal hazards, including infrastructure protection
Research and monitoring of ocean acidification, hypoxia and harmful algal blooms
Conservation of sensitive marine, coastal and Great Lakes species and their habitat
Baseline data collection, ecosystem assessments and mapping for use in planning for new sustainable ocean uses and protecting ecosystem health
Planning for sustainable coastal development