Starfish Galaxies: Joshua Cripps Shares the Story Behind His Award-Winning Photo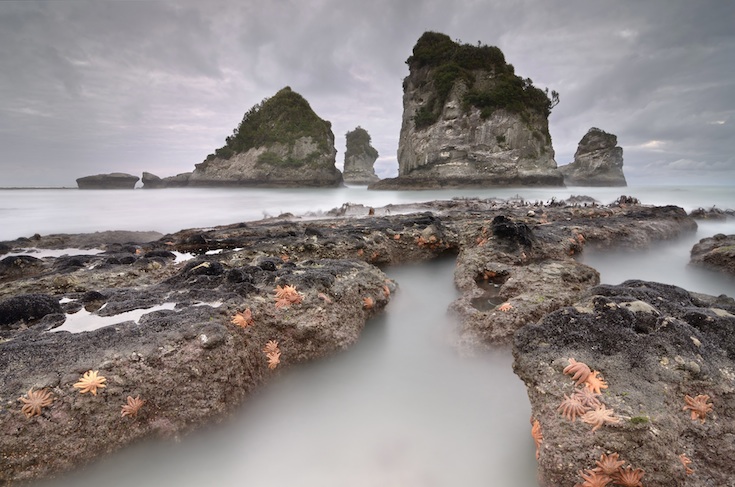 Credit: Joshua Cripps
During Ocean Conservancy's 2012 Marine Life and Seascape Photo Contest, we received over 600 entries, showcasing everything from sea turtles to sharks to seashells. Though there were plenty of amazing photographs, only one could be our grand-prize winner.
Photographer Joshua Cripps shares with us the story behind his award-winning photo, "Motukiekie Galaxies":
What's the story behind this photo?
I took this photo at Motukiekie Beach on the West Coast of the South Island of New Zealand during a month-long photography expedition. It's a remarkable beach full of tide pools, mirror-like sand, massive tidal swings and intriguing sea stacks and caves.
What made you take the photo?
I have a sometimes-dangerous habit of being too curious: "Hmm, what's just over that cliff?" "Can I jump down into this canyon?" In this case I saw some tide pools right at the water's edge and wanted to go investigate them, despite the fact that the water was rising quickly and I knew I'd probably get soaked by going out there.
But once I rock-hopped out to the tidal pools, I found hundreds of these 12-legged sea stars clinging to the rocks. That amazing sight, along with the beautiful sea stacks farther out to sea and the moody conditions at the time, left me with no question that I was going to take a photo.
Was it difficult to shoot?
Yes and no. Shooting in the tidal zone is always challenging. You run the risk of being splashed by waves (which isn't particularly good for your equipment), slipping on wet rocks or having a sneaky wave take you out completely. And yes, all three have happened to me numerous times.
But those experiences have made me more careful and confident in my abilities while shooting the ocean. And thankfully, in this spot the waves were fairly small, especially after being broken up coming through the rocks. So in this case the only real difficulty in getting the shot was dealing with wet feet as the tide rose.
How did you feel being there and taking the photo?
Like I'd found a pot of gold at the end of the rainbow. From my prior scouting, I knew how much potential this beach had for good photography, but I didn't know exactly what I'd find when I hopped out toward these particular rocks.
When I saw the hundreds of starfish clinging to the rocks, I couldn't believe my good fortune. Those sea stars—which, being from California, I found incredibly exotic—along with the stormy conditions of the day made me want to create as surreal and alien a photo as I could, so I used some long exposures to render the incoming waves as mist. And when the images on the back of my camera started to match my vision of the scene, it was an incredibly validating and rewarding feeling.