A Victory for Fish and Turtles in the Gulf of Mexico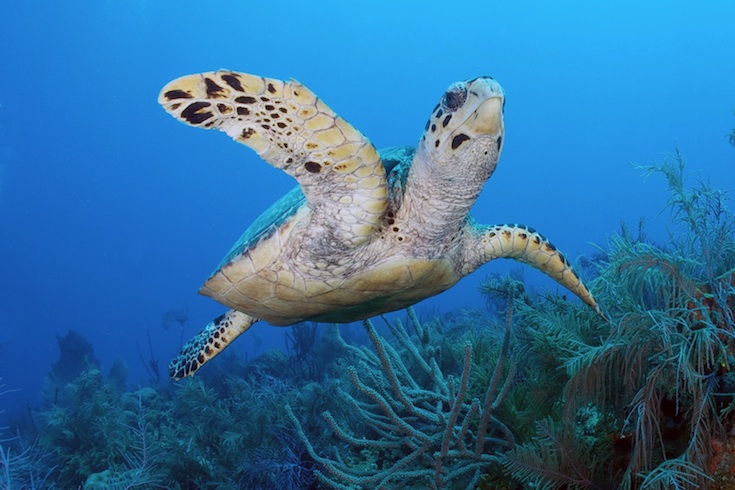 In a significant step forward in restoration of the Gulf of Mexico's natural resources, the National Fish and Wildlife Foundation (NFWF), in partnership with the five Gulf states and two federal agencies, announced over $100 million for restoration projects across the Gulf. A total of 22 projects will restore a number of Gulf habitats and species, ranging from coastal dunes in Texas, to oyster reefs in Alabama and shorebird nests in Mississippi.
Funding for these projects comes from the criminal settlement against Transocean and BP, which were finalized late last year. These funds must be used to remedy the harm caused to our natural resources in the Gulf due to the BP Deepwater Horizon oil disaster, and these are some of the first fine monies to be put toward restoration. (Click here to read more about the ongoing civil trial and what's at stake.)
We are particularly excited about two projects in Florida that support restoration of offshore Gulf species: enhanced reef fish (think: red snapper) health assessments and turtle-friendly beach lighting. Marine restoration projects like this are part of the comprehensive approach that Ocean Conservancy advocates.
NFWF, The Florida Fish and Wildlife Conservation Commission, Florida Department of Environmental Protection and the National Oceanic and Atmospheric Administration should be commended for ensuring that the marine resources that make Florida an international tourist destination often recognized as "The Fishing Capital of the World" are closely monitored and restored.
While the jury is still out on the cumulative impacts of the Deepwater Horizon oil and dispersants in the water, supporting recovery of reef fish and sea turtles is a wise investment. In particular, NFWF's $3 million commitment to additional data collection on the fish and the fishery will aid recovery and foster improved ecosystem understanding and management.
The $1.5 million project to retrofit beachfront lights on or near important nesting habitat in the Florida Panhandle will greatly increase sea turtle survival, as artificial lighting can impair a sea turtle hatchling's ability to reach the ocean on its own. Since Florida boasts 90 percent of all sea turtle nesting in the continental United States and sea turtles were one of the species hit hard by the oil disaster, this project is good news indeed.
Restoration is a long process and restoration in the marine environment, in particular, is a large and daunting endeavor, but it is critically important for the coastal communities that are dependent upon the beauty and bounty of the Gulf. NFWF and the Gulf states have taken an important step today toward making the Gulf whole.