New Offshore Renewable Energy Technology Highlights Need for Smart Ocean Planning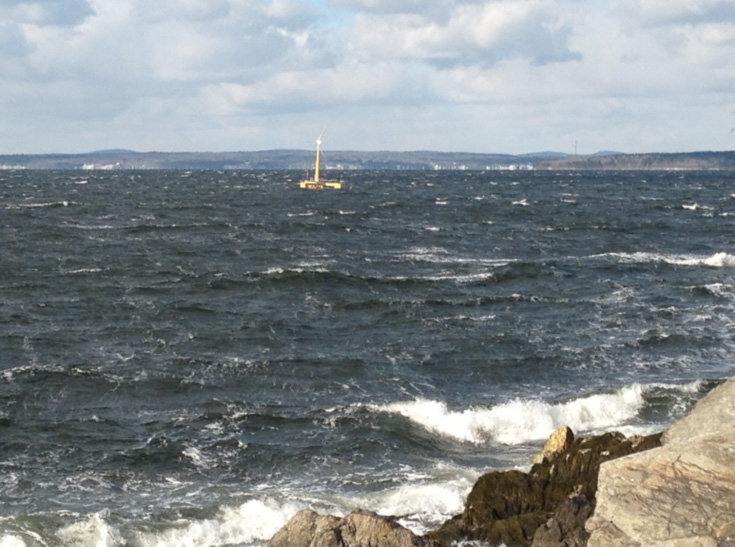 The VolturnUS floating wind turbine off the coast of Castine, Maine.
It was a blustery Maine day when I hiked out to a rocky promontory through the snow to get a glimpse of the University of Maine's VolturnUS wind turbine in action. Ironically, I had seen the launch of this experimental turbine onto a barge in the Penobscot River on one of the hottest days of the summer – with much ceremony celebrating the first floating platform wind turbine to be tested in U.S. waters.
Today's visit took me far upriver to the current testing site at Maine Maritime Academy (MMA) in Castine.
Guiding me to the viewing spot was Rick Armstrong, director of the Tidal Energy Device Evaluation Center, otherwise known as TEDEC. Had our weather been a bit more favorable, we would have taken one of MMA's boats out to get an up-close look at the turbine as well another of their sites: a platform for testing tidal energy devices in the Bagaduce River.

Rick has shaped TEDEC's program into a unique education and testing facility where students can learn the skills they need to work in an emerging renewable energy industry and companies can test their technology at MMA's test site. With a grant from the Maine Technology Institute in collaboration with the Maine Ocean and Wind Industry Initiative, TEDEC was able to construct the tidal platform to test innovative devices that might someday have commercial application. Rick had to jump through a number of hoops to get the four current testing sites permitted, but with cooperation and support from the Federal Energy Regulatory Commission, the Army Corps of Engineers and the Maine Department of Environmental Protection, they can now attract companies from across the United States (and even Canada) that are interested in entering the U.S. market.
The potential economic gains for Maine and the job opportunities for MMA graduates are huge.
So, the technology now has a great place to be developed, but what happens next for the University of Maine's VolturnUS project and the tidal generation devices? It is a tricky thing to decide where ocean energy devices might find a home among the many existing uses in the water.
Fortunately, a comprehensive planning process is already underway to guide the future uses of our coasts and oceans. As a part of the Obama administration's National Ocean Policy, nine regions around the country will each develop an ocean management plan. The Northeast region is leading the way, and its official Regional Planning Body has already held several meetings and outlined its planning goals after substantial public input.
"It is one thing for us to test the devices and prepare a new generation of mariners to develop new technologies to extract electric power from the tides and be skilled in deployment and maintenance," Rick told me, "but unless we have environmentally sound sites for installation and stakeholder acceptance of those sites, the great opportunity for renewable tidal energy will be lost. Coastal and marine spatial planning is an essential ingredient in finding the right sites and providing appropriate, nonconflicting and commercially viable places for installations."
Facilities like TEDEC are paving the way for new energy generating technologies, and regional planning is laying the foundation to help us make the best decisions going forward about how this new technology can contribute to our economy in a sustainable way. The public can participate in the regional planning process by contributing valuable information and perspectives – and by letting their legislators know that they support funding to complete this important work.
To receive updates and opportunities to participate, click here.