Galveston Oil Spill Threatens Multibillion-dollar Investment in Gulf Wildlife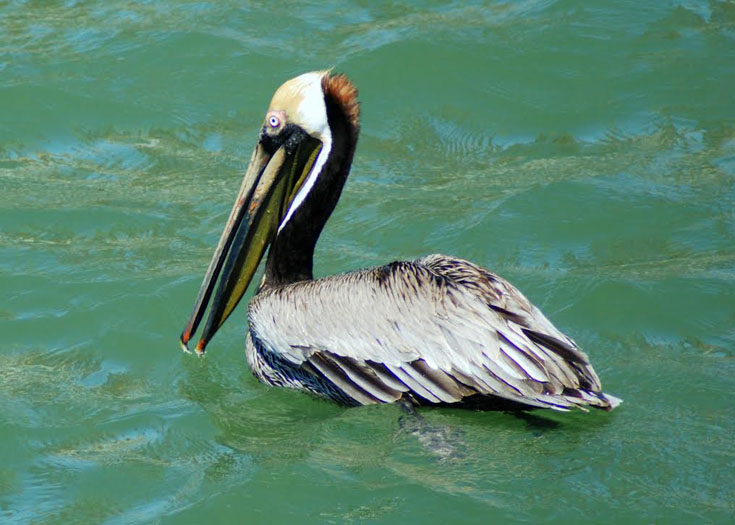 This week, as we recall the moment that the Exxon Valdez crashed into Bligh Reef just off the coast of a sleepy Alaska fishing town 25 years ago, a similar scene unfolds on the other side of the country. Under heavy fog, a barge traveling through Galveston Bay, Texas, collided with another ship and leaked an alarming amount of oil into the bay from its 168,000-gallon fuel tank. Due to bad weather, the oil is spreading quickly and has been spotted as far as 12 miles out in the Gulf of Mexico.
Response teams are busy trying to contain the oil on the water's surface with boom and skimmers, but the damage has already been done. Spring is a crucial time for bird migrations in Texas, with an estimated 50,000 shorebirds and seabirds roosting at the Bolivar Flats Refuge only two miles from where the spill occurred. Our partners at Audubon and Galveston Bay Foundation are on the ground reporting a number of birds that have been found oiled. The surface oil also poses a threat to dolphins and turtles, which frequently surface in the bay. The endangered Kemp's ridley sea turtles living in the Gulf nest almost exclusively on the coasts of Texas and Mexico.
This time of year is also critical for spawning fish, including red drum, mullet and menhaden, which use the estuaries near the coast to spawn before returning to the ocean. Also, the fishing season is about to get underway off the Texas coast, and this latest spill is terrible timing for Texas' nearly $2 billion-dollar commercial and recreational fishing industry. It is well established that crude oil is toxic to pink salmon and zebrafish eggs and larvae, and a recent study has established that the same types of abnormalities occur in Gulf species, such as tuna and amberjack, when exposed to crude oil. Researchers studying the impacts of the BP Deepwater Horizon oil disaster determined that fish eggs exposed to relatively low levels of crude oil suffer from deformed or abnormal hearts. Therefore, it is highly possible that fish eggs and larvae exposed to oil in Galveston Bay will be similarly impacted. It is crucial that we monitor and track spawning fish and other animals and any lost fishing opportunity as we begin to pick up the pieces from the recent oil spill in Texas. This information will help ensure that we fully account for injury to natural resources or lost services like fishing or beach use and hold the responsible parties accountable.
This barge spill is unfortunately not the first in the Gulf, and if history is any guide, it likely won't be the last. While not nearly as large a spill as the BP oil disaster, the Galveston Bay spill is another in a series of historical spills around the Gulf among decades of degradation. These stressors add to the challenge of restoring the Gulf to a healthy, productive ecosystem. However, as a result of the BP oil disaster, we now have the opportunity to restore the Gulf by addressing once and for all the underlying problems. Comprehensive and integrated restoration can help improve the Gulf's productivity and strengthen its resiliency to future events such as oil spills, harmful algal blooms and hurricanes.
The RESTORE Act, along with monies from the Natural Resource Damage Assessment and the National Fish and Wildlife Foundation, could give us an unprecedented amount of resources to invest billions of dollars in penalties from BP into projects that restore the Gulf ecosystem, as well as the communities that depend on it. Some of these restoration projects benefitting key species like shorebirds, fish and oysters are already underway, and exposure to the Galveston oil spill could hinder their recovery. With this once-in-a-lifetime opportunity to make the Gulf whole again, we simply can't afford to have accidents like this that threaten this multibillion-dollar investment in our ecosystem.
_______________________
NOTE: If you see an oiled animal, do not handle it. Call the Galveston County Office of Emergency Management at 888-384-2000 to report oiled wildlife. For more information and opportunities to volunteer, visit the Houston Audubon Society's website