New Data on Coastal Recreation Along the Atlantic to Help Guide Planning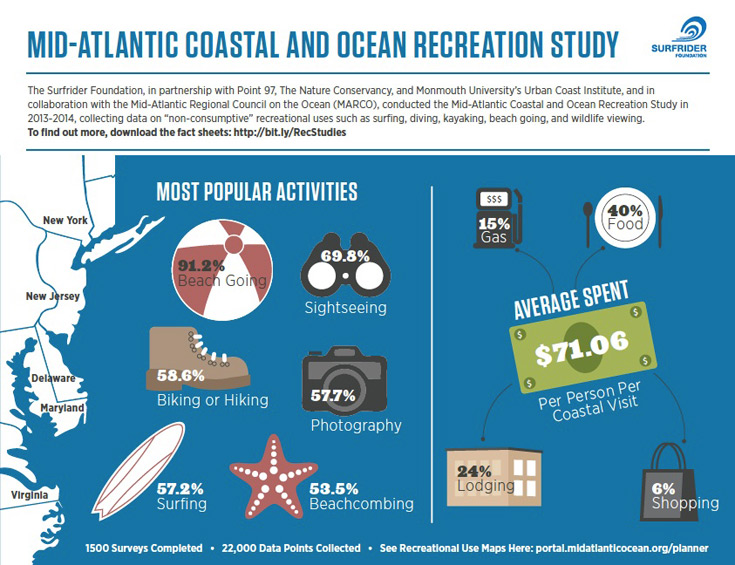 The Surfrider Foundation, in partnership with Point 97, The Nature Conservancy and Monmouth University's Urban Coast Institute, has published the results of a recreational use study conducted along the Mid-Atlantic coast.
Almost 1,500 completed surveys were collected, which provided insight on where and how people spend their time along the Mid-Atlantic coast. This information, which is represented by the above image, shows just how extensively the region's coastlines are used by surfers, hikers, swimmers, and other beachgoers, and these activities are not only a common pastime for many Mid-Atlantic residents, but also generate significant economic benefits for coastal communities and the region.
The study helps fill a longstanding data gap on recreational activities along the Mid-Atlantic coast.  This information will contribute to the ongoing regional ocean planning effort in the Mid-Atlantic, where the first iteration of a Mid-Atlantic ocean plan is on track to be completed by 2016.  The survey was done in coordination with the Mid-Atlantic Regional Council on the Ocean and will be integrated into the Mid-Atlantic Ocean Data Portal and available for use by the Mid-Atlantic Regional Planning Body (RPB) to create a plan for regional ocean management.
For more information, including the full report and state by state fact sheets, please click here.