Trash-Talking On Our 42nd Birthday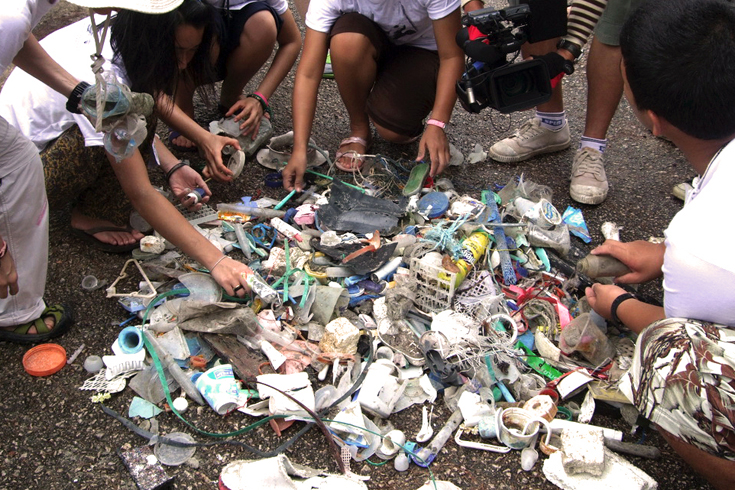 Ocean Conservancy is turning 42 today – that makes us one of the oldest conservation organizations in the US.  But 42 is the new 17, and we're feeling anything but settled these days.  Sure, we are delighted at our successes (none more so than the complete turnaround of US fisheries).  There are definitely a few things that really frost our cookies – and none more so than that disgusting and dangerous mess that is clinically known as "marine debris."
Let's call it what it is:  trash in the ocean. The ocean contains a staggering amount of it.  There's enough to fill more than 200 professional football stadiums. In ten years or so, there will be one ton of trash for every 2-3 tons of fish.  If you love the ocean, that's just completely unacceptable.
And it's not like that trash just bobs around on the surface (about 70 percent of plastics produced float), looking ugly but doing little harm.  Quite the opposite – we have report after report coming in that most of the plastic degrades into tiny pieces, which, if you're an anchovy or a sardine or a turtle, look a lot like food.  Much of it is eaten and is inside the animals.  And to makes things worse, these tiny plastic pellets have the nasty property of adsorbing and concentrating the low-level industrial pollution that is ubiquitous in seawater, effectively turning plastic fragments into toxic pellets.  So what we get is a slow contamination of the entire ocean biota.
The majority of ocean trash hails from rapidly industrializing countries where plastics consumption is exploding and waste management infrastructure lags far behind.  Eventually, these countries will implement waste systems, but by then it will be too late – plastics stick around the ocean for hundreds of years.  Unfortunately, there are no silver bullet solutions – plastics are unlikely to be banned or replaced in time to avoid the avalanche over the next ten years. To address the systemic problem, what is needed is for plastic and consumer product industries to step to the forefront and put their enormous resources to work.  We can't do it without them.  Nobody knows logistics better.  Nobody is more skilled at social marketing.  And certainly, nobody has more financial resources.
We are starting a major campaign on ocean trash that goes far beyond the scope of our traditional International Coastal Cleanup.  In the years to come, we will lead the development of an entirely new approach to financing and establishing critically needed infrastructure in those places which spew the most plastic into the ocean.  Stay close, stay tuned in, and become involved.  We can do this.
Forty-two has never looked better. And our biggest birthday wish is to stop the flow of plastics into the ocean.  But before we can achieve that reality, the best gift you can give us for our birthday is to join us on September 20 for the International Coastal Cleanup.
We thank you. And the ocean thanks you.