What's Haunting Our Ocean?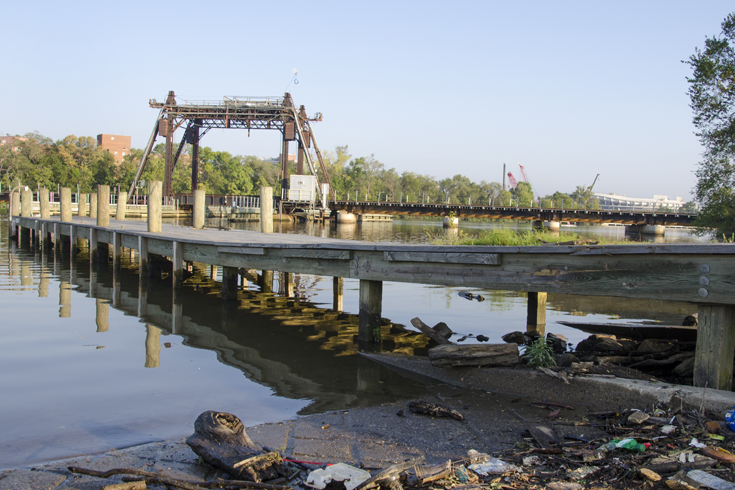 What's haunting our ocean? Ghost crabs or witch flounder? What about devil rays or goblin sharks? Sure, there are tons of monsters and ghouls hidden beneath the waves, but like in any scary movie, the most dangerous villains may be the least obvious.
Let's take cigarette butts for example. When you think of the ocean, they're probably not the first thing or even among the top ten things you think of. Yet, they're the most common specter we find on our beaches year after year. In 2013, volunteers collected over 2 million cigarette butts.
Food wrappers are other trolls lurking around our beaches. International Coastal Cleanup volunteers removed more than 1.6 million of them last year alone.
Plastic beverage bottles are also regular beach phantoms. In 2013, we found more than 940,000 plastic bottles on local beaches and shorelines. You can put them to rest by drinking out of a reusable water bottle.
Don't think the litter caused by the 940,000 plastic bottles is the end of their terror. Volunteers found more than 847,000 bottle caps that were beheaded from their bottles still on the beach. This is even scarier because bottles without their caps can be doomed to sink to the bottom of the sea where they'll spend all eternity.
If you wanted a scarecrow on the beach, you'd be able to build him just with the plastic straws you find there. More than 555,000 were found on beaches and shorelines last year. We don't need sage to banish straws from the beach though. If you skipped the straw every time you were at a sit down restaurant, you can help remove their presence from your beach.
Plastic grocery bags are common ghosts on the beach with more than 440,000 exorcised by International Coastal Cleanup volunteers last year. Once they enter the ocean, they can trick sea turtles into thinking they're jellyfish, the sea turtle's favorite meal. Sea turtles who swallow plastic bags can suffer from digestive problems or even death.
Ghoulish glass beverage bottles are big problems for beaches. More than 394,00 were collected last year alone.
Plastic grocery bags aren't the only plastic bags haunting the beach. We found more than 368,000 other kinds of plastic bags creeping their away along the shoreline.
If you're walking the beach, there's a good chance a paper bag maybe stalking you. Howling winds can blow paper bags from far off and onto shorelines. Try to use a trashcan with a lid when throwing away easily blown away items.
Hundreds of thousands of beverage cans prowl beaches all over the world.
The sea monsters of folklore or even sharks with rows and rows of serrated teeth can't make us scream in fright like these 10 things haunting our ocean and endangering marine life. Good thing we all have the power to stop these ocean threats.
Below is a map that shows which monsters are most commonly found on US beaches: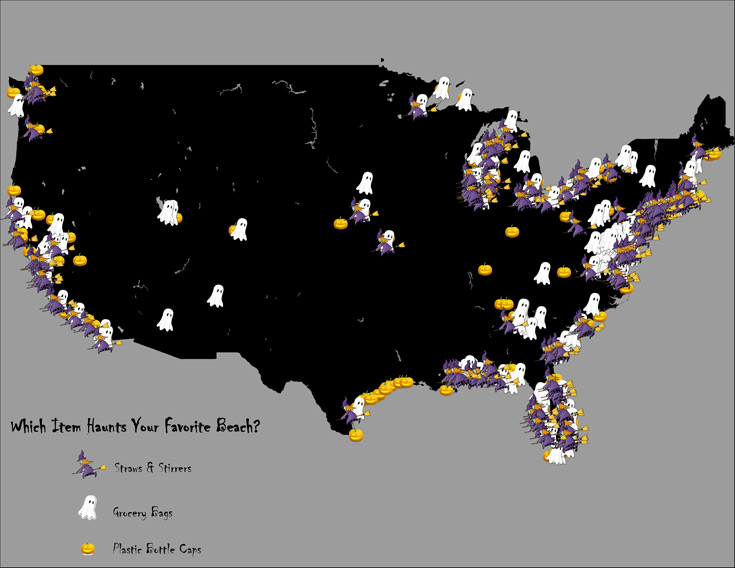 Take a deeper look into the cauldron and see which monsters haunt your local beach: