Bicoastal State Action on Ocean Acidification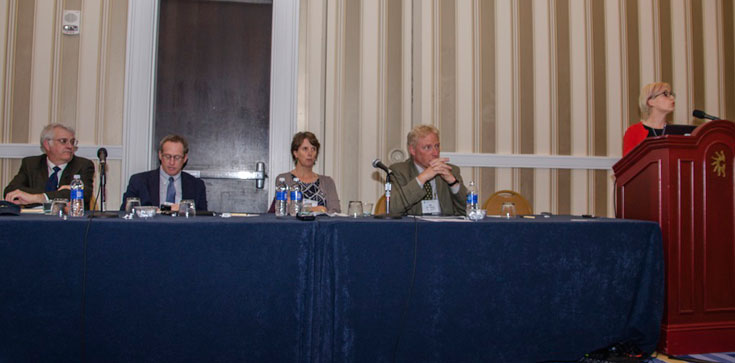 By Guest Authors Mick Devin, Jay Manning and Eric Schwaab
Last week at the Restore America's Estuaries Summit hundreds of people gathered near the nation's capital to talk about coastal restoration and management practices. We were invited to lend a voice to a significant new coastal threat – – ocean acidification.  Acidification threats have been recognized by coastal communities and businesses as not just a concern for restoration practitioners, but to the fishing and aquaculture businesses that support the economies of many coastal communities. Ocean acidification threatens fish and wildlife around the world, but also jobs and livelihoods in coastal communities throughout the US.
The most well-known example of acidification impacting coastal businesses and communities happened in 2007 and 2008 with the shellfish industry in the Pacific Northwest. Hatchery owners, working closely with scientists, found that acidification was killing billions of baby oysters. As a result, shellfish farms and hatcheries along the West Coast faced serious financial losses. These businesses have been able to take steps to respond to the continued threat of acidification, and bounce back.  But there are many more businesses and sectors around the US, and in our states in particular, that are at risk due to acidification.
Up to a third of all carbon pollution in the atmosphere is absorbed by the ocean, causing a chemical change in seawater that turns it more acidic.  This makes it harder for shell-building animals to survive.
Based on community concerns, our states have taken recent action to better understand and respond to ocean acidification.  As chairs of the Maine, Washington and Maryland state panels on ocean acidification, we spoke alongside NOAA Ocean Acidification Program Director Libby Jewett about better monitoring, enhanced coordination, mitigation opportunities and other specific actions planned or underway.
Our three states contribute billions of dollars to the national economy through our coastal communities and fisheries, yet our iconic lobster, blue crab and shellfish fisheries may be vulnerable to acidification impacts.  We are taking steps now to respond and are committed to doing even more. Washington has already established research and policy centers to work on this issue, and Maine and Maryland are issuing reports for legislative actions in the coming months.
It was great to share experiences and discuss how to collaborate and tackle a problem that is inherently bigger than all of our states combined.  However, we are encouraged and hopeful that with each state that takes action, we will find ways to roll back acidification and its negative impacts.
About the Guest Authors:
Mick Devin is co-chair of the Maine Commission on Ocean Acidification, and was recently re-elected as a member of the Maine State House of Representatives, representing Maine's 51st District.
Jay Manning is the former Chief of Staff to Washington State Governor Christine Gregoire, and Co-chair of the Washington State Blue Ribbon Panel on Ocean Acidification.  He is currently an environmental lawyer and consultant based out of Olympia, Washington.
Eric Schwaab is the chair of the Maryland Ocean Acidification Task Force, and former US Department of Commerce acting Assistant Secretary for Conservation and Management, and Assistant Administrator for Fisheries at NOAA.  He is currently the Senior Vice President and Chief Conservation Officer at the National Aquarium in Baltimore, Maryland.