Shell's Kulluk Disaster Featured in New York Times Sunday Magazine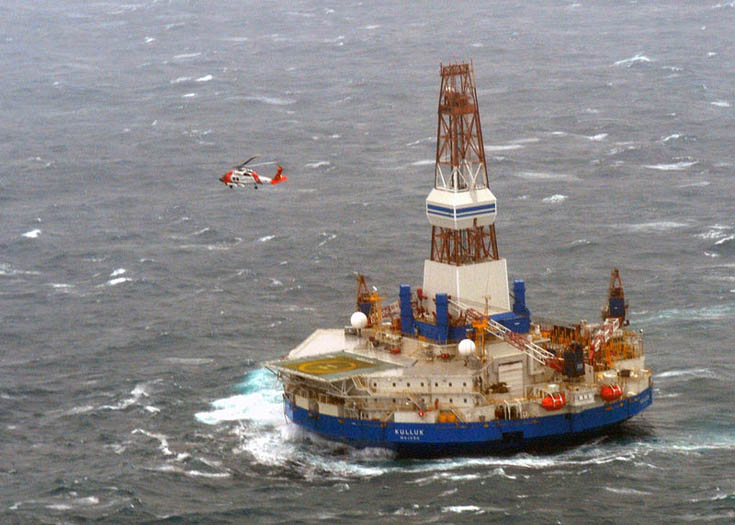 In late December of 2012, one of Shell Oil's Arctic drillships, the Kulluk, snapped its tow-line during a powerful storm in the North Pacific. After multiple failed attempts to re-establish a tow, the Coast Guard evacuated the crew of the Kulluk, rescue tugs abandoned their efforts to pull the ship to safety, and the Kulluk grounded on Sitkalidak Island near Kodiak, Alaska.  The January 4 issue of the New York Times Sunday Magazine tells the dramatic story of the events that led up to the disaster in an article entitled, The Wreck of the Kulluk.
The Sunday Magazine story tells a gripping tale, especially if you like accounts of drama on the sea. Aside from being a good read, the story makes clear that Shell and its contractors easily could have avoided the disaster. Before leaving port, the tug's tow master predicted that Kulluk's planned route "guarantees an ass kicking." Warnings signs don't get much clearer than that. But the tow master's caution, like many other warning signs—was ignored.
I wrote about Shell's multiple mistakes and its failure to recognize risk in this blog post, which was published soon after the Coast Guard released a report on its investigation into the Kulluk incident. Another  Coast Guard investigation led to the recent announcement that Shell contractor Noble Drilling would plead guilty to eight felony charges and pay more than $12 million in fines relating to violations onboard Shell's other Arctic drillship, the Noble Discoverer.
Unfortunately, Shell wants to return to the Arctic this coming summer. The oil giant has submitted plans to bring the Noble Discoverer and another drillship to the Chukchi Sea this year. That could spell double trouble for the Arctic. Tell the Secretary of the Interior to say "no" to Shell's risky drilling plans. Please sign our petition today.