BP Trial Highlights Lasting Offshore Impacts in the Gulf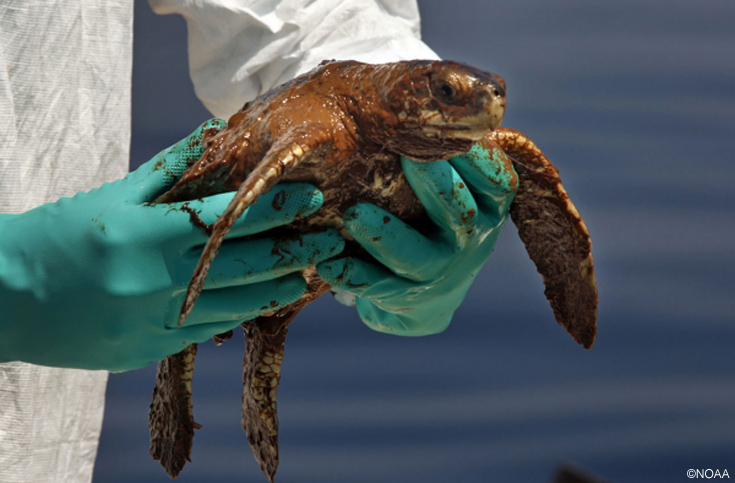 Last week during the ongoing BP trial in New Orleans, the testimony of Donald Boesch, a professor of marine science at the University of Maryland, was a real call-to-arms for ocean-lovers. Much of the impact to marine fish, habitats and wildlife has been "out of sight, out of mind" and in many cases off limits to the public.
Through Boesch's testimony, the U.S. prosecutors hope to highlight the seriousness of the BP Deepwater Horizon oil disaster—one of eight factors that will determine the level of environmental fines the judge will set—and make the case for fines as high as $13.7 billion. Boesch painted an alarming picture of potential marine impacts, with deep-water corals and other living creatures on the seabed of the Gulf covered in oil.
Dolphins are suffering from lung disease and low weight. Sargassum, the floating seaweed essential to juvenile sea turtles and schooling fish, was coated in oil and sank under the weight. Plankton, bacteria, protozoans, and tiny crustaceans drifting on or near the surface of water – the foundation of the Gulf's food web – had no means to escape the toxic plume of dispersants and oil. Hundreds of thousands of sea birds and shore birds including pelicans, gulls, and gannets are presumed dead, the vast majority of which sank to the seafloor or wound up in other unreachable parts of the Gulf.
"We don't know fully about the recoverability of these species – it's a slow process," Boesch said. "Something we don't yet know is how long this effect will last."
The work and testimony of scientists like Dr. Boesch are beginning to shed light on how severely the Gulf was hit, and give new urgency to recovery through restoration investments and solving chronic sources of stress and degradation (e.g., overfishing, pollution, the dead zone, coastal erosion, habitat destruction).
Fortunately, these marine impacts can be remedied. Restoration programs are finally underway, and with smart investment strategies, we can recover and restore what was lost in the Gulf beyond the shore. Only 9 percent of the total funding for projects go toward restoring the marine wildlife and habitats of the Gulf. We can change this number by ensuring that restoration following the BP trial includes the marine environment, where the oil disaster began.