Local Boston Theater Raises Funds and Awareness for Ocean Conservancy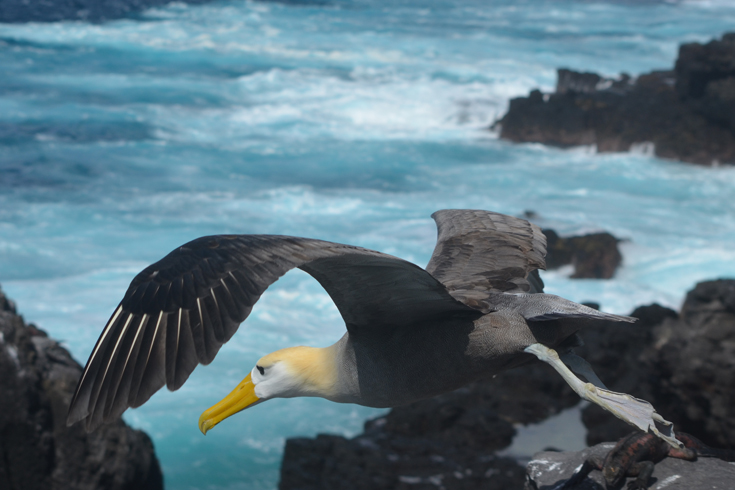 The Poets' Theater in Cambridge, Massachusetts, has put on nearly 50 performances of its show Albatross, based on "The Rime of the Ancient Mariner" by Samuel Taylor Coleridge. Ocean Conservancy supports efforts to protect all marine life, including sea birds like the albatross, so a partnership with The Poets' Theater seemed natural. We even have an albatross in our logo!
The Rime of the Ancient Mariner is a poem that tells the tale of a lost sailor and his crew who are helped out of the Antarctic by an albatross. Despite the aid, the mariner kills the giant bird. The mariner then loses his entire crew, suffers great storms, and even faces manifestations of death as punishment for his crime against nature. The mariner is cursed to forever tell his tale as warning to others. Albatross follows the immortal mariner's travels 300 years later in the year 2015.
Benjamin Evett, the one-man show's star and cowriter, wanted this epic story about the sea to support Ocean Conservancy's efforts. Online and at the end of every performance, he asks audience members to donate to the Poets' Theatre and to Ocean Conservancy. Despite Boston being blanketed by several feet of snow, they've managed to find an audience and raise both awareness and funds for Ocean Conservancy.
To Benjamin, this is a timeless story that has as very powerful message about how people treat the natural world. "It's a play about thoughtless actions. The mariner's punished as an example of how important it is to be mindful of all living things."
The Poets' Theater seems to be as immortal as the mariner himself. It was first established in 1950 to give poets a stage to share their craft. A fire forced its doors shut a dozen years later. Nearly 25 years after that, the theater was resurrected in 1986 and continued until 2004. Albatross ushered in a new era for the theater last September.
Albatross' life may prove to be just as long. Benjamin hopes to take the show on the road and perform in various other cities.
If you'd like to see Albatross before it soars away from The Poets' Theater on March 1, click here for tickets!