The Statement from BP We All Need to Hear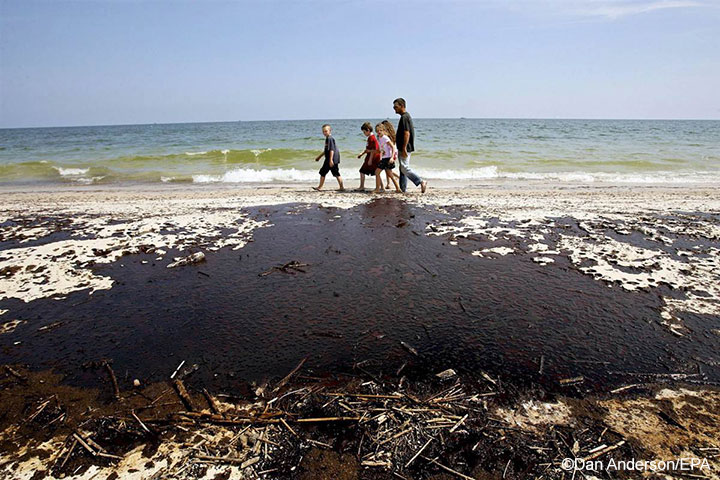 Ocean Conservancy prides itself on contributing to thoughtful, science-based restoration approaches in the Gulf as we work toward returning the region to its rightful place as a natural treasure and economic engine for the entire country.
But, everyone's patience gets tested from time to time. After seeing the latest "report" from BP, we've had enough of reacting thoughtfully to BP's continued PR efforts to discredit the scientists and environmental groups working to restore the Gulf and honor the lives and livelihoods lost in this disaster. Below, we have provided a spin-free translation of the introductory letter to BP's latest effort to convince you that they are the victims of the Deepwater Horizon oil disaster.
Message from BP:
Five years of investigation: the Gulf of Mexico is rebounding
Five years have passed since the tragic events of April 20, 2010, when 11 men lost their lives aboard the Deepwater Horizon drilling rig. In the aftermath of the accident, BP Exploration & Production Inc. (BP) and federal, state and local agencies launched an extraordinary response effort to cap the well, capture and remove oil from the water and minimize impacts. Still, oil escaped into the sea for 87 days, affecting some wildlife and habitats.
Translation:
Listen, it was an oopsie. A big one. Of course it was going to take a long time to stop the well. I mean, we were totally unprepared for this. I wish now we had written an actual response plan for the Gulf of Mexico and hadn't just copied and pasted one from the Arctic, which meant our response plan for the Gulf included protecting walruses.
To begin to understand the environmental impact, within days of the accident BP and government scientists were in the field evaluating the potential for injury to wildlife and habitats, as well as lost recreational use of these resources.
We were on TV every day telling people we were going to "make it right" while we did our best to keep the media from seeing the extent of the damage to the coastline, which is coming in pretty handy right about now when I want you to believe my "study."
So began the Natural Resource Damage Assessment (NRDA) – the largest such environmental assessment ever performed. To date, NRDA scientists have conducted more than 240 studies, and BP has spent about $1.3 billion to pay for them. The assessment is still underway.
In addition to the NRDA work, scientists working on the spill response performed environmental studies to help guide cleanup operations. This included government studies conducted by multi-agency Operational Science Advisory Teams (OSAT).
The biggest assessment ever performed—we get brownie points for that, right? BP's annual profit in 2011 was $25.7 billion. We could have bought 20 private jets at $50 million a pop with the $1.3 billion we shelled out for you people who wanted to know whether or not a tiny bit of oil in your ocean was going to affect you.
The NRDA and OSAT studies have produced a vast amount of data on the Gulf's condition before, during and after the accident. This information is helping scientists understand the environmental impact and recovery thus far.
The science is showing that most of the environmental impact occurred immediately after the accident – during spring and summer 2010 – in areas near the wellhead and along oiled beaches and marshes. Areas that were affected are recovering and data BP has collected and analyzed to date do not indicate a significant long-term impact to the population of any Gulf species.
Yeah, this scientific study stuff is really starting to annoy us. You'd think that footing the bill for everything would entitle us to some editorial control in what these so-called scientists are finding. That's how it usually works for us. Do you know how much data we had to wade through to find and cherry-pick the information we needed to justify this report? It's exhausting. You can't trust real scientists to be unbiased about anything these days.
Several key factors mitigated the accident's environmental impact: the location in deep water, far offshore and in a temperate climate; the type of "light" crude oil involved, which degrades and evaporates faster than other oils; the massive offshore response and shoreline cleanup effort; and the natural resilience of the Gulf's ecosystems.
Who cares about the deep ocean? It's not like you can drive there or anything. Out of sight, out of mind, am I right? It's murky down there. Just a bunch of sediment. And worms. And oil (my bad). And worms eating the oily sediment. And fish eating the worms…well, isn't this whole "food web" just a theory, anyway?
In early 2014, the U.S. Coast Guard ended active shoreline cleanup, and today injured natural resources are being restored. BP entered an unprecedented agreement in 2011 to provide up to $1 billion for early restoration projects, allowing environmental restoration work to begin while scientists continued to assess injury through the NRDA. At the end of 2014, 54 projects costing about $700 million were underway across Alabama, Florida, Louisiana, Mississippi and Texas.
The hard work of tens of thousands of people – both inside and outside of BP – has resulted in significant progress toward understanding the accident's environmental impact, cleaning the shoreline and restoring the Gulf. This report summarizes what BP has done and learned, and is part of our pledge to keep the public informed about progress in the Gulf. Also, data from NRDA and response scientific studies are available at http://gulfsciencedata.bp.com.
Actually, state agencies are still cleaning up oil on the Gulf Coast. But the way I've written this makes it sound like there's no more oil, doesn't it? That's why I get paid the big bucks. So let's stop trying so hard to "understand" the health of our ecosystem. Who cares if spiders and insects aren't as abundant in oiled areas? I bet you don't even like spiders.
Our goal now is to keep trying to discredit every study that says we should continue to study the Gulf and be watchful for long-term impacts. That long-term thing sounds like it could get expensive. Better to nip it in the bud now.
We hope the information will help provide a better understanding of the Gulf's ecosystems five years after the accident, and the actions BP has taken to meet its commitment to restore the environment.
We've spent hundreds of millions of dollars on public relations to tell you everything is fine. Do you believe us yet?
Laura W. Folse
Executive Vice President
Response and Environmental Restoration
BP Gulf Coast Restoration Organization
If you don't believe BP, join us and let's get to the truth of the matter. Click here to share this with @BP_America on Twitter.