What does the BP Settlement Mean for the Gulf?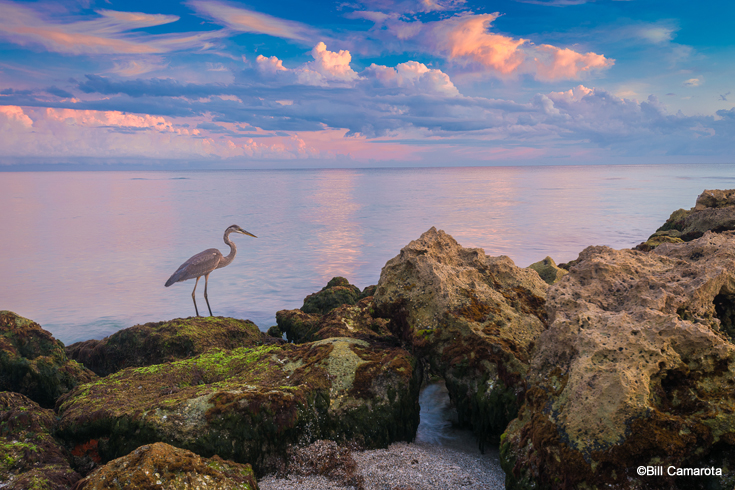 Now that the fireworks have died down, we wanted to check back on the big announcement from BP earlier this month. BP, the Department of Justice and the five Gulf states announced they had reached a settlement for $18.7 billion to resolve outstanding fines and claims from the 2010 oil disaster. We've spent the week diving into the numbers and here's a little more about what we know and what questions remain.
The agreement provides $8.1 billion for Natural Resource Damages, including $1 billion in Early Restoration previously committed by BP. Nearly 70 percent of the $1 billion for Early Restoration has already been spent, with another $134 million set to be spent this summer on 10 new projects. It is unclear at this point how the remaining $168 million Early Restoration funds will be allocated. However, in the coming months, we hope to see a draft Damage Assessment and Restoration Plan (DARP) from the Trustees that could lay the path forward for those remaining funds and the $7.1 billion in payments to be made over the next 15 years. This is an important fund for the Gulf's fish and wildlife beyond the shore, as it includes $1.24 billion for "open ocean" projects, as well as $350 million for "regionwide" projects. While the exact definition of the terms "open ocean" and "regionwide" remain unclear, Ocean Conservancy is encouraged by this news, as we have long advocated for a comprehensive, regionwide approach to restoration, including the offshore environment.
In our earlier blog, we hailed the $350 million to continue assessing the damage caused by the disaster, but it is unclear if this funding will be available for ongoing assessments, or if it is only available to reimburse outstanding assessment costs. Further information is also needed to understand how much funding could be reserved for future damages and how those funds will be allocated. Long-term research and monitoring are critical to understanding if and how the Gulf is recovering, and BP should bear the responsibility of this cost.
Over the next 15 years, BP will pay $5.5 billion in Clean Water Act penalties.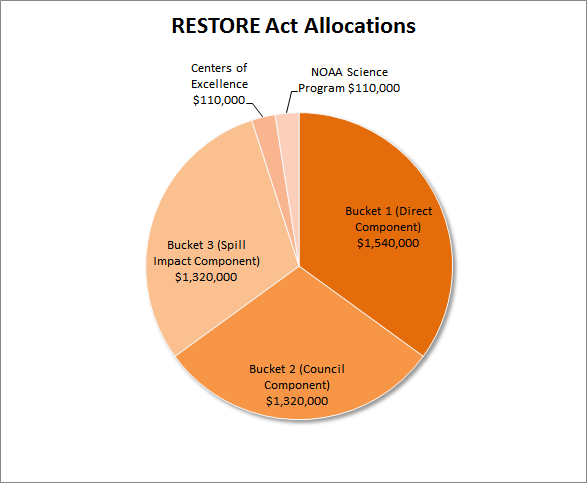 Of this $5.5 billion, 20 percent, or $1.1 billion, goes to the Oil Spill Liability Trust Fund for responding to future oil spills. The other 80 percent, or $4.4 billion, will be allocated according to the RESTORE Act. $1.32 billion will be allocated to the Gulf Coast Ecosystem Restoration Council to be used to restore and protect the natural resources of the Gulf. We are eager to find out more about how these funds will impact the RESTORE Council's planning and project funding. This chart details the allocations of Clean Water Act fines through the RESTORE Act.
Adding to all of this the $2.544 billion directed to the National Fish and Wildlife Foundation in 2013 and the $800 million directed to the RESTORE Act from the settlement with Transocean in 2013, these are significant resources to fund projects benefiting the natural resources of the Gulf Coast.
Before the settlement, our Gulf leaders faced challenges in planning for restoration, due to the uncertainty around how much money would ultimately be available and when. With those questions now answered, decision-makers will be able to move forward with recovery and restoration planning that takes more comprehensive approach and a long view of the Gulf's resources.
How they set about that task will be critical. We will continue to encourage decision-makers to coordinate planning efforts across these funding mechanisms, create more transparency, and meaningfully engage the public. There is also an enormous opportunity here to appropriately leverage these funds so we get the most bang for these bucks. This is going to need to be a team effort, as Bethany wrote earlier this month, we all need to continue to work together to seize this opportunity.
For an in-depth analysis of the $18.7 billion BP settlement, download our fact sheet.