Go Behind the Scenes in the Philippines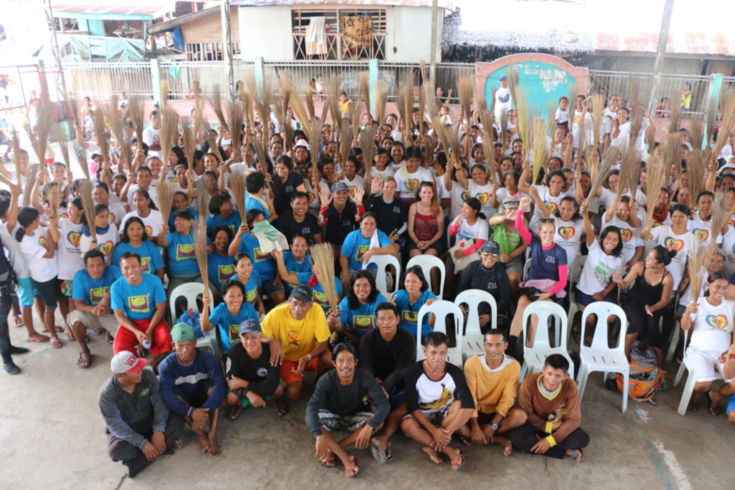 A Look Back and a Sneak Peak Forward
We've been working behind the scenes for a more than a year, working on solutions to plastic pollution in the ocean. Tomorrow, we'll reveal our new report, Stemming the Tide: Land-based strategies for a plastic free ocean. Before we reveal our next steps, we wanted to take a look back over the last 30 years of the International Coastal Cleanup (ICC), and the partners who have made the work possible.
We recently traveled to the Philippines to attend a meeting of the Asia Pacific Economic Cooperation (APEC), and sat down with longtime ICC volunteer coordinator Amado Blanco, the Project Manager (Net-Works) at Zoological Society of London (ZSL) in the Philippines.
The Philippines are one of five countries we're focusing on as a solution to plastic pollution, so we wanted to get a better idea of what is actually happening on the ground. Amado has worked with us for more than 15 years, and provides some great insights.
Q: Amado, tell us about the main goals and objectives of the Zoological Society of London (ZSL) – Philippines, and some of your marine debris initiatives.
A: ZSL envisions a world where animals are valued, and their conservation is assured. Its mission is to promote the worldwide conservation of animals and their habitats. ZSL recently embraced its 2026 Mission Targets, which includes the following:
Define and monitor the status of the world's protected areas and at least 20,000 species
Improve the status of at least 100 of the world's most threatened and distinct species
Protect and restore at least 1 million km2 of coastal and marine habitat and ½ million km2 of terrestrial habitat
Ensure best practice for natural resource use in at least 1 million km2 of priority production landscapes
Over the years, ZSL has actively promoted and supported the annual International Coastal Cleanup.  While we have helped catalyze the annual participation of partner communities and local governments in the ICC, we have also developed our Net-Works banner initiative, directed at finding more sustainable, broad-based, and innovative solutions to addressing instances of dumping or abandoning fishing nets in our ocean. Abandoned nets are disastrous to both people and environment, and they result in a phenomenon known as ghost fishing. With fisheries declining globally, we cannot afford to set up ghost traps.
Q: You mentioned that ZSL has led International Coastal Cleanup events in the past. After your 15 years of clean ups, tell us how you think the ICC is connected to your work?
A: Over the years, our organization has actively promoted the ICC and trained a network of partner communities. I am proud to say many of these communities can now host ICC events independently.  This year, ZSL Philippines organized a cleanup in Guindacpan Island in Danajon Bank primarily to mobilize in-house divers and local fishers to collect discarded nets, test if we can tap our partner community bank as a buying station of other recyclable plastics, and generate funds internally to enhance management of existing marine protected area through a match funding scheme whereby Net-Works matches every peso that is generated from the sale of nets and other plastics collected on community cleanup day.
Q: Tell us about the hurdles to your work? If so, how were you able to overcome them?
A: The first major hurdle we had to grapple with was choosing the right community-level social infrastructures for Net-Works. Initially, we only had resources to implement the proof of concept phase for six months.  My UK based manager and I explored local and international community-banking experiences, which eventually led us to the works of Feed The Children Philippines and World Vision Philippines on community banking.
I think what allowed us to overcome our dilemma was the approach of scanning and tapping into what already existed on site and our willingness to embrace new approaches. Community banks are now primarily driving collections of nets for recycling.
We are still trying to figure out how to deal with waste  from plastics produced internally and exported by sea currents to island villages and isolated mainland coastal communities. Perhaps this is something that we could work with Ocean Conservancy on.
Q:  Since 2012, your work has focused on fishing gear that would otherwise clog our waterways – describe the changes and impacts that you've seen.
A: As of August 2015, Net-Works has shipped 51,934kg (114,495 lbs.) of net out to Aquafil in Slovenia – bringing communities into a mainstream supply chain for nylon yarn. Gross value of the volume of nets collected is US $63,653, of which $26,626 represents direct community income and the rest is infused into the local economy via baling labor, porterage, transport service fees, and export facilitation.
Net-Works now operates in 22 collection sites in two regions in central Philippines. It has set up 15 community banks that serve as on-site buying stations of used nets and platforms for village-level conservation education and actions. The community banks are self-generating their own social funds, which extend modest financial support to members in case a family member needs to be taken to a hospital or buy medications. It has now gone global with the establishment of the project in four villages in the Lake Ossa region of Cameroon, West Africa.
Q: We're about to release a new report that focuses on the importance of implementing waste management infrastructures in rapidly industrializing countries – what would that mean to you in the Philippines?
A: I think the success of solutions rests heavily on communities, industry support, and an ecological governance platform supported by strong political will. In countries with population nearing or already past explosion levels, like the Philippines, households and communities are the biggest producers of plastic wastes. Hence, genuine and sustained participation of communities is very crucial.
Industry has the flexibility and resources to support both research and development of innovative approaches, and create market value and a strong supply chain for recyclable plastics. The income communities derived by tapping the industry-linked supply chain provides long-term motivation for waste recycling. For instance, Interface provided ZSL resources to undertake a short proof-of-concept project, which essentially involved assessing the viability of partnering with community organizations as social infrastructures for net recycling and developing and testing the Net-Works business model. And, through dialogue with another industry player (Aquafil), Interface set up a secure market for nets collected by community organizations ZSL Philippines helped catalyze.
Government should elevate ecological governance to a new height. This governance should go beyond mere passage of ecological waste management policies and programs, procurement and installation of stand-alone garbage bins and materials recovery facilities. Setting the standards for long-term compliance and eventually molding the societal norms on how wastes should be managed should drive the strict implementation of these policies and programs. Governments can also provide incentives to industries that invest on capital intensive waste recycling ventures (e.g. waste to power or waste to fuel).
Q: Tell us about the success of your partnership with Interface.
A: In 2011, Interface convened two workshops with ZSL, yarn supplier Aquafil, and experts from business and conservation. The workshops allowed attendees to share their goals and interests and the ultimate result was a pilot of Net-Works in the Danajon Bank in 2012.
For ZSL this was an opportunity to tackle the growing environmental problem of discarded fishing nets and work with communities to protect the ecosystem, improve their livelihoods and harness the benefits of partnering with a corporate. For, Interface, the company has a goal to source 100% recycled material for its carpet tiles by the year 2020, and the nets represented a perfect feedstock.
Q: What do you think about the importance of recycling and waste management in the Philippines and other rapidly developing economies?
A:  I think with the current educational level of our people, the majority or people understand why we should not throw wastes indiscriminately as flooding and inland water bodies, will eventually transport wastes to the sea. In populous countries like the Philippines, managing wastes at source points (i.e. households and communities) is vital to reducing the volume of waste that end up in the sea.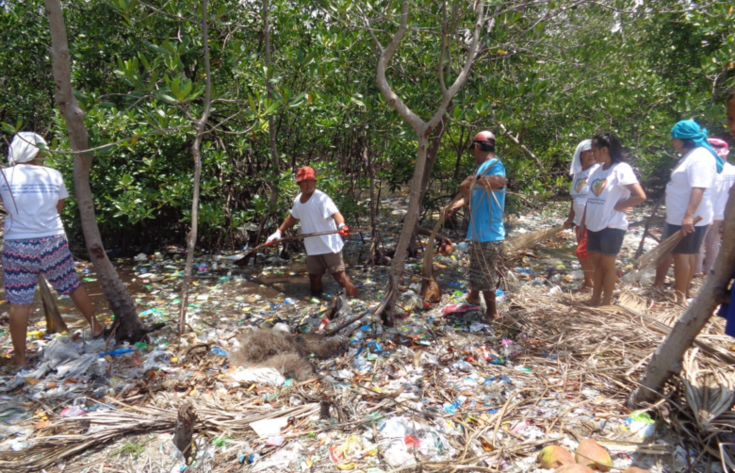 Translating understanding into sustained practice is about eliminating barriers and providing incentives. It is very important that household and community level waste management initiatives are linked to effective waste collection systems, which should be the primary responsibility of our state institutions, especially local government units. Nobody likes to live in a dirty environment and living in a healthy community is in itself an incentive. With Net-Works, we have demonstrated that waste management can be made more compelling when participation can also mean immediate economic and social incentives. In coastal villages where Net-Works operates, fishers are no longer throwing away used fishing nets because we have set up community associations (which act practically like garbage receptacles) that buy their discarded nets at compelling prices.
Q: What suggestions or tips would you give to people who want to reduce their waste footprint?
A: We should rethink and alter our consumption patterns. A person's consumption pattern determines the potential volume of wastes. In populous countries like the Philippines, the family is the best place to inculcate and demonstrate positive consumer values and discipline.