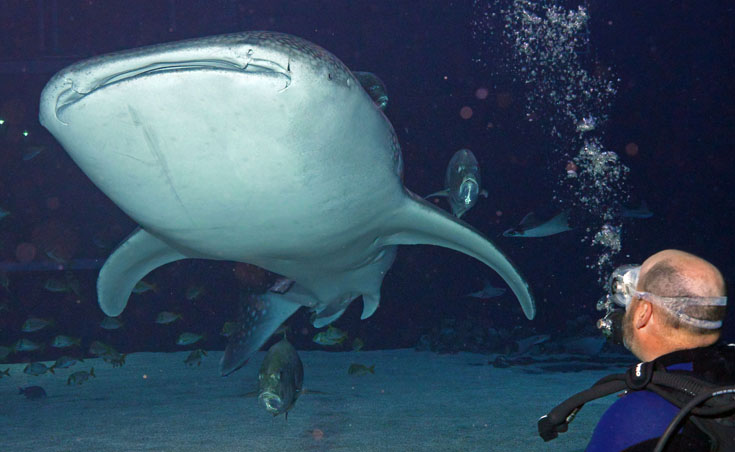 I looked up just as the water above me darkened. Within an arm's length, a massive whale shark passed over my head, its tail methodically propelling it forward. I caught its improbably small eye looking intently at me as it glided past. Directly behind came a second whale shark and then another.
But I wasn't swimming in the ocean – I was 30 feet below the surface, at the bottom of the 6.3 million gallon Ocean Voyager exhibit at the Georgia Aquarium. As a marine scientist, I've logged a lot of dives in places from tropical reefs to temperate kelp forests. But I'd never been this up close and personal with the world's biggest fish. In the wild, whale sharks can grow to 40 feet and nearly 50,000 pounds; those at the Georgia Aquarium are a relatively "small" 25 feet in length.
This jaw-dropping experience was made possible by Dr. Alistair Dove, Director of Research and Conservation at Georgia Aquarium and the newest member of Ocean Conservancy's Trash Free Seas Alliance®.  Along with April Crow of The Coca-Cola Company, Dr. Al was our local host last week, when Ocean Conservancy brought together industry members, conservation organizations and scientists in Atlanta to continue our collective work to stem the tide of plastics entering the world's ocean.  As Ocean Conservancy's Chief Scientist, I'm working to bring the latest science to bear on the Alliance's efforts and I had the honor of guiding the group through two days of productive deliberations.
Under Al's lead, the Georgia Aquarium has made solving marine debris one of its core conservation initiatives. Marine debris resonates with their nearly 2 million visitors a year because plastic in the ocean is unambiguously a problem of humanity's making and one the aquarium can play a leadership role in helping solve.
When he isn't working on ocean trash, Dr. Dove's primary research focuses on understanding whale shark biology, ecology and evolution. He regularly studies the annual aggregation of whale sharks off the Yucatan Peninsula in Mexico in search of elusive breeding behavior. An active and persuasive voice on social media (you can follow him on Twitter at @AlistairDove), Al shares his research experiences widely and he seeks to bring these findings and those of the other aquarium research and conservation initiatives to a range of audiences. With an infectious laugh and a keen sense of humor, Al shared these experiences with the members of the Trash Free Seas Alliance®, as the whale sharks and other denizens of the Ocean Voyager exhibit swam by the two-foot-thick viewing window.
My two days at the Georgia Aquarium reminded me why I decided to pursue a career in marine biology 25 years ago.  From the smallest of phytoplankton to the largest of whale sharks, ocean animals are infinitely fascinating. A healthy marine food web comprising these creatures is critical to humanity's well being. Science shows us that we need to do more to protect the world's ocean.  Doing so will need the support of the general public, who often get exposed to the ocean only at an aquarium, like the one in Atlanta. Bringing that experience to more people is a prerequisite for better decision-making, from personal choices on the use of disposable plastic to international leadership to reduce carbon emissions to protect the ocean from climate change.
All of us at Ocean Conservancy are looking forward to our new partnership with Dr. Al and the Georgia Aquarium. Together we can inspire the private sector, elected officials and the general public alike to work on behalf of ocean conservation so whale sharks and all the ocean's creatures can continue to inspire us well into the future.