The Faces of Ocean Acidification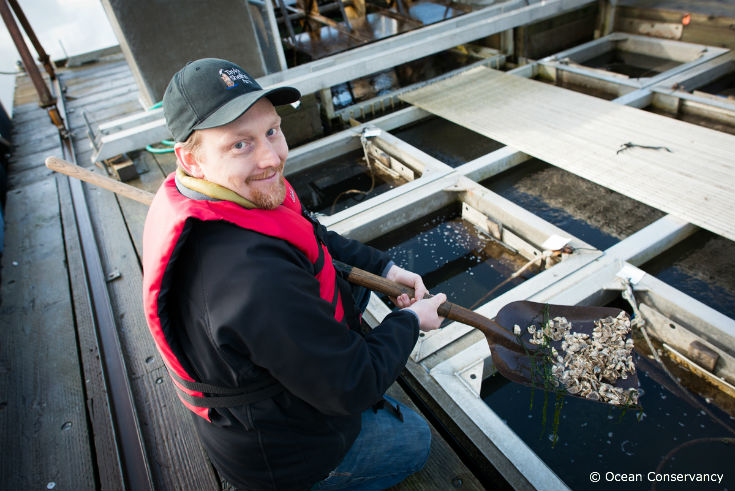 Want the latest news on lobstermen, shellfish farmers and marine scientists pioneering a changing ocean? Check out Ocean Conservancy's Scoop.it page! "Changing Chemistry" provides a peek into the lives of shellfish farmers and fishermen nationwide, and explores partnerships with scientists and legislators that led to local success stories. Here's a sneak peek at some of their stories.
Bi-partisan Effort Ensuring Maine is Preparing for Climate Change
As legislator Mick Devin famously said, "No one comes to the Maine coast to eat a chicken sandwich." Lobster is Maine's kingpin commercial fishery and tourism hook; it's also a shell-building organism that's potentially at risk from ocean acidification. Lobster, clams, scallops and oysters make up 87% of Maine's $585 million commercial landings and support about 33,000 jobs. Now politicians, marine scientists, lobstermen, aquaculturists and grassroots organizations are working to ensure these vital industries are prepared for a changing ocean. This is a bi-partisan force to be reckoned with.
Hog Island Oyster Co. Talks Ocean Acidification
Tessa Hill and Terry Sawyer sat down to discuss the benefits of science and industry partnerships. Hill, a marine biogeochemist at University of California, Davis, was approached by Hog Island Oyster Company co-owner Terry Sawyer to monitor water quality conditions around his farm to help understand how acidification impacts aquaculture in Tomales Bay, California. The result has led to an incredibly successful partnership that provides Hill with valuable data, and helps Sawyer adapt to changing ocean conditions.
Meet California's mussel man (no, NOT the Governator) Bernard Friedman, the only open-ocean mussel farm owner in the state since 2003. Friedman's love for the ocean led him to study sea life, and eventually put his passion into a business model. He recently had to renew outdated permits for his farm, a process that is important for marine conservation but can easily put an aquaculture operation at risk. However with cooperation from members of the Coastal Commission and researchers at University of California, Santa Barbara, Friedman's shellfish love affair sees a happy ending. These relationships will be crucial as future threats like ocean acidification will require smart management and monitoring to protect Friedman's business.
How One Family Built a Shellfish Powerhouse on Puget Sound
Ever wonder what it feels like to be king of the oysters? It's another day in the life of the Taylors at Taylor Shellfish Farms in Washington. From its origins in the 1880s, this fifth generation family-owned business is the largest shellfish aquaculture producer in the country. Yet the company faced its biggest hurdle yet in 2009 when ocean acidification caused millions of oyster larvae to die. Brothers Bill and Paul Taylor reflect on how they manage their operation while staying true to the strong environmental stewardship values their father instilled in them.
The golden years of Chesapeake Bay's wild oyster fishery have almost faded away; however, innovative watermen are bringing back the vibrant waterfront culture. Oysters, the ocean's water filter, are ultra-efficient at clearing excess nutrients from the water and can drastically improve water quality. Policies requiring cutbacks in nutrient runoff support a bright future for a healthy Chesapeake ecosystem; allowing oyster farms, such as Hoopers Island Aquaculture Company, to thrive while also improving local water quality.
Want more stories? Follow our Scoop.it page to learn more.