Women in Science: A Q&A with Tessa Hill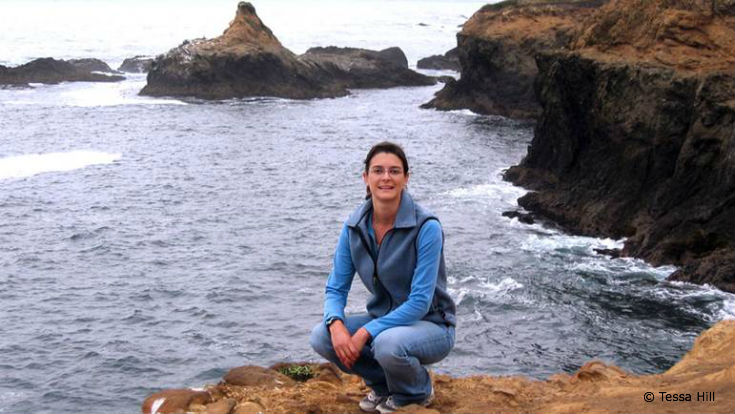 For International Women's Day, we looked at how women are contributing to the ever-expanding field of ocean science. Tessa Hill from the University of California, Davis gave us a glimpse of her life as a marine scientist and how her work contributes to a healthy ocean.
Q: You're an ocean biogeochemist – how would you explain your career to the average layperson?
A: I study how ocean environments respond to global change. I use a combination of many different fields – hence the long title with ocean, bio, geo, and chemist in there. I like working on questions that reach across typical academic boundaries, and collaborating with experts in other fields to broaden my own knowledge.
Q: In your research, you look at sediment records as well as current ocean conditions. Why is including both past and present relevant for your work?
A: I think we need to understand how the Earth works to be able to understand what the important consequences of future change will be. This understanding requires an investigation beyond "modern" timescales, where humans have had an impact. I like to think that paleoclimate records, or climate records taken from sediments, tell us stories about how the earth, ocean and atmosphere responded in the past to dramatic changes.
I also really enjoy having one foot in the 'real' ocean and thinking about how it works today. Some of my most exciting work is done with ecologists who are interested in understanding what the ocean will look like 50, 100 or 200 years from now. We do experiments that allow us to peer into the future and understand how marine animals will respond to changes that are around the corner.
Q: You also partner with Hog Island Oyster Company by monitoring pH conditions around their oyster farm. What are the shared benefits there?
A: This is a great partnership that has been really exciting for everyone involved. The owners at Hog Island Oyster Company – Terry Sawyer and John Finger – invited us to begin investigations at the site of their farming operation over three years ago. We deployed instruments that allow us to monitor the state of ocean acidification in Tomales Bay. We are monitoring temperature, salinity, oxygen, pH and carbon dioxide in the water there. We use these data for our scientific investigations and as a baseline for our laboratory work. The oyster farm uses these data to understand how acidification may be impacting their business today. They are making business decisions knowing that ocean acidification is something that will continue to impact their future, so it helps to start to understand how it is influencing the health of their oysters now. This work was a bit cobbled together at first, but now thankfully it is supported by our Integrated Ocean Observing System (IOOS) and the NOAA Ocean Acidification program. It is really exciting to do work that can be used by scientists, the public, sustainable aquaculture, and coastal managers.
Q: In addition, you're also an Associate Professor and work tirelessly on science communication and public engagement. Why do you feel communicating your work to the public is so important?
A: Ha! Tirelessly. That made me laugh because I definitely feel tired sometimes…but I also feel very committed to people understanding what we are discovering about or oceans and atmosphere. Essentially all of the work that I do is paid for by taxpayers: My research is supported by both the State of California and federal sources of funding (most significantly, the National Science Foundation). All of the information that I gather about the impacts of Earth's changes should be public!  We have decisions to make about how to move forward and address our climate and environmental challenges. I'd like to see our decisions based in science.
Q: How about a shout-out to your favorite woman in science on International Women's Day, Is there someone in particular that you admire?
A: Well, that is a hard one, because I actually can think of many women who I admire. I'll start with a shout out to Rachel Carson, who has inspired so many women and men to investigate the world around them and try to understand how humans interact with the land and sea.
Q: President Obama recently awarded you with the Presidential Early Career Award for Scientists and Engineers–congratulations! As a female role model yourself, is there anything you'd like to share with young women pursuing a career in science?
A: Follow your curiosity! We need as many bright minds as possible to understand how the world works. Being a scientist is exciting, important, and a great way to spend your day. Come join me.
Thank you, Tessa Hill, for inspiring women and men everywhere to get excited about our oceans!