Honoring the Women Who Led the Response to the BP Oil Disaster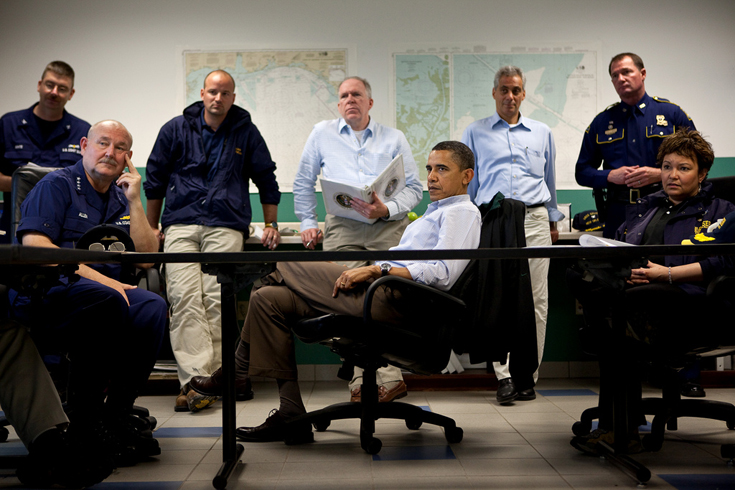 If you caught our tweet chat for International Women's Day last month, I'm sure you noticed that there are some amazing women in conservation on the Gulf Coast. As we approach the 6-year memorial of the BP Deepwater Horizon oil disaster, I can't help but think of the incredible women who led the Gulf region through that terrible tragedy with grace and confidence. As a woman in the conservation field, I am always inspired by those who go before me and pave a clearer path for women in science and leadership. The battles they overcome are experiences we can learn from and hopefully not have to revisit. Let's take a moment to highlight a few notable women who led the charge in the beginning of the BP oil disaster.
Lisa Jackson became the administrator of the Environmental Protection Agency in 2009. Little did she know the following year would bring her back to her roots to New Orleans to fight one of the largest environmental disasters in U.S. history. With Jackson as the lead, EPA oversaw the incredible task of monitoring and responding to environmental and public health concerns during the BP oil disaster. President Obama appointed Jackson as chair of the Gulf Coast Ecosystem Restoration Task Force, where she focused her efforts on figuring out how to restore the Gulf beyond just BP. By asking big-picture questions like "What does the Gulf Coast region need to be resilient?," Jackson set up the current Gulf Coast Ecosystem Restoration Council to tackle the long-term environmental issues facing the Gulf.
Dr. Jane Lubchenco served as the administrator of the National Oceanic and Atmospheric Administration (NOAA) from 2009 to 2013, and she is the first woman to serve in this post.  During the BP oil disaster, Dr. Lubchenco lead the response effort for NOAA as the agency tracked the oil and predicted where it would go, closed the fisheries in the Gulf to keep our seafood safe, worked to protect endangered species from the oiled areas, and assessed the damage to the Gulf's natural resources. Now a professor at Oregon State University, Dr. Lubchenco continues to weigh in on the ecosystem wide impact of the BP oil disaster: "The bottom line is that oil is nasty stuff. Yes, the Gulf is resilient, but it was hit pretty darn hard."
Trudy Fisher is the first woman to serve as Executive Director of the Mississippi Department of Environmental Quality. Fisher served as Mississippi's trustee under the Natural Resource Damage Assessment, and after passage of the RESTORE Act she served as the governor's designee on the Gulf Coast Ecosystem Restoration Council.  Fisher was the public facing voice in Mississippi during the BP oil disaster and she was always committed to reassuring the public that her agency was focused on restoring the Gulf and Mississippi coast: "Our singular goal in the aftermath of the oil spill is to make Mississippi whole. Nature and its enjoyment are fundamental to Mississippians, whose lives are integrally bound up in the pleasure of hunting, fishing, bird watching, and other nature-related activities."
Cyn Sarthou is the Executive Director of the Gulf Restoration Network, a nonprofit organization that is committed to uniting and empowering people to protect and restore the natural resources of the Gulf Region. Guided by the very capable hands of Sarthou, GRN has been involved in the recovery from the BP oil disaster from the beginning. A strong voice for environmental restoration, Sarthou frequently speaks up for the communities and wild places around the Gulf that few others will. That type of authenticity has gained her well-deserved respect and admiration in the Gulf coast communities. She is quick to point out that the economy of the Gulf relies on a healthy, functioning ecosystem and funds from the global settlement must be used to restore the environment accordingly: "The funds from this settlement provide a once-in-a-lifetime opportunity to repair the Gulf in the wake of the BP disaster and make our coasts and communities stronger and more resilient for future generations. We must not squander this opportunity."