When Doing the Right Thing is Also Fun!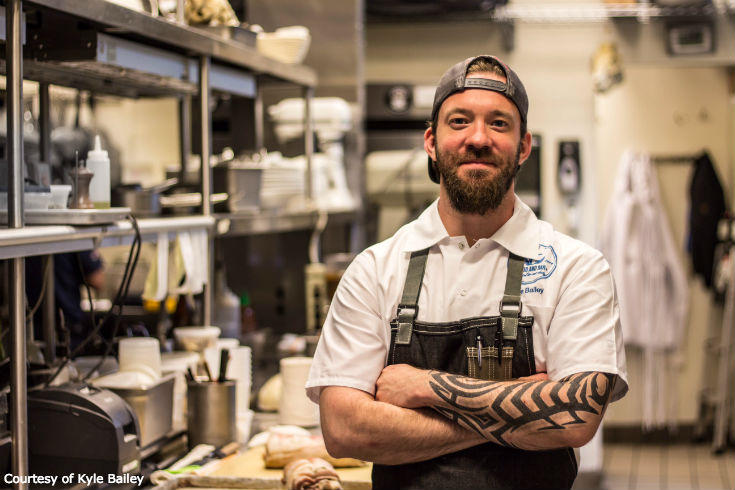 By Chef Kyle Bailey
Doing the right thing can also be fun. For chefs like me, working within the limits required under U.S. sustainable fisheries management law these last ten years hasn't been a burden, it's been a bonanza.
Prior to 2006, when overfishing was still rampant in U.S. waters, the fishermen I buy from would often bemoan the fact that they didn't have Atlantic cod, bluefin tuna or swordfish—the fish species American cuisine had grown to rely on. In other words, no fish and chips, no tuna sushi and no swordfish steak would be on the menu that night.
When the Magnuson-Stevens Act (MSA) was reauthorized in 2006 with new, science-based regulations that put strict caps on catch limits on fisheries that were plummeting, I wondered, maybe I should just take "catch of the day" off my menu. That kind of attitude could have flattened us, but fishermen are a hardy lot and restaurants like mine offer them high-value markets for their catch. We got creative!
Soon, they were selling yellowtail flounder, white hake, black sea bass and Maryland blue catfish. I started trying all kinds of new preparations and combinations with these delights. As a bottom dweller, white hake eat crustaceans, and as a result, they have this amazing, sweet, scallop flavor! It was like Christmas, I had something new to play with! It was a fun challenge to serve these to my customers. Sure, people come to restaurants to get something to eat, but they also come for the chef's creativity and the excitement of trying something new. And we're proud to say that we only serve seafood that has been harvested sustainably. We use seafood from anywhere up and down the eastern seaboard.
Right now, I'm serving Florida grouper with fregula, fresh chickpeas and corn pudding. I also know the farmer who's selling the corn and the fresh chickpeas are delicious. It's a light, real summery dish!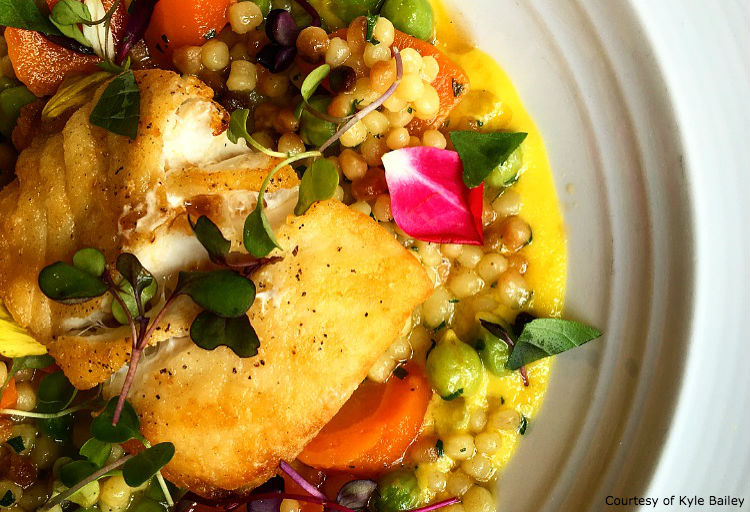 Farmed Chesapeake oysters are very good too. And when rockfish is doing a bit better, I'm sure my fishermen friends will have that for me too. Seafood is a chef's best friend. There's nothing better than locally harvested seafood—the freshness and flavor are unmatched and that spells a happy customer.
So, it's been ten years now since Congress gave MSA real teeth, and in that time 30 fish stocks have recovered to the point that fishermen can catch and market them again. Sustainable fisheries management works. And it supports American fisheries, which is really important to me rather than importing seafood from overseas. If sustainable fishing policies were allowed to continue, I could be selling Atlantic cod again.
Unfortunately, in the next few weeks NOAA Fisheries is planning to alter National Standard 1, the rule under MSA that guides our nation's eight regional fisheries management councils in setting catch limits, assessing the health and abundance of fish stocks, regulating bycatch and other issues. Under MSA we have had strong, science-based rules that established catch limits by conducting annual assessments and reviews. Now, those practices are being replaced by weak guidelines that allow fishery managers to delay remediating overfishing by several years even when managers know overfishing is happening. The rule change also proposes removing oversight. MSA required the Secretary of Commerce to review all stock rebuilding plans to determine if they were making progress. Under the new rule, the Secretary is only required to determine if the plan is being implemented as intended regardless of whether the fish stock is improving.
If NOAA goes through with this rule change, then we're back to square one. With today's advanced technology to find and catch fish, it's easy to overfish. But living within moderate catch limits and having reliable, healthy fish stocks is far better for business—both restaurants and fishermen. And we've managed within MSA's reasonable limits. Frankly, we've done more than survive. We've thrived!
We've even had fun! When reasonable people band together, there's always a way forward. So I call on you, consumers, restaurant goers and fishermen: Register your compliant with President Obama and tell him to keep our fisheries sustainable!
Take action now and tell NOAA to strengthen, not weaken, our nation's fishery conservation and management standards.
Chef Kyle Bailey is owner and chef at Sixth Engine in Washington, D.C.