Join the International Coastal Cleanup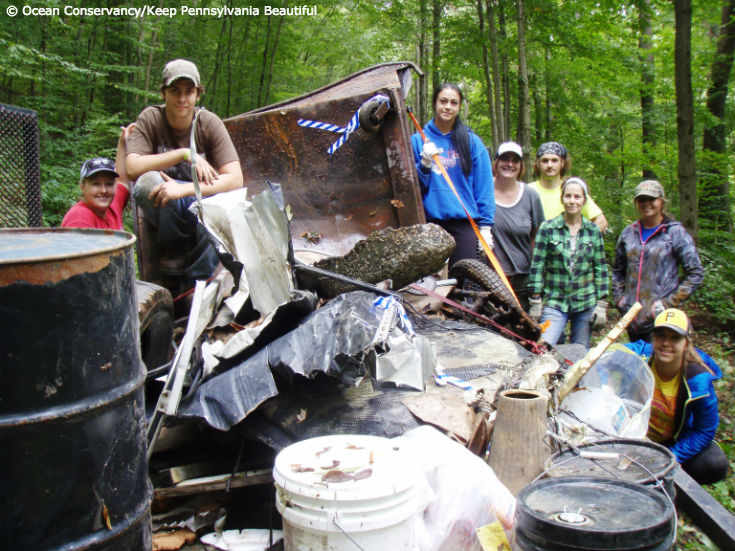 Written by Tori Glascock
Does all of this trash talk have you feeling down in the dumps? For 30 years, Ocean Conservancy's International Coastal Cleanup (ICC), has helped keep trash off our beaches and out of the ocean!
Volunteers from states and territories throughout the U.S. and more than 100 countries come together each year and participate in an ICC event near them. You can sign up to clean up or propose a new cleanup site! Three decades of Cleanups have yielded more than 210 million pounds of trash being collected and saved from polluting our ocean. Over 11.5 million volunteers have covered more than 360,000 miles of coastlines across the world.
In 2015 alone, beach, underwater and watercraft volunteers covered 25,188 miles and picked up 18,062,939 million pounds of trash. A plethora of plastic items was found including beverage bottles, bottle caps, straws, bags and utensils. Changes to daily habits such as Skipping the Straw when you go out to restaurants, using reusable water bottles instead of disposable plastic ones and using reusable grocery bags will make a huge impact on helping to decrease the amount of trash that is reaching our ocean.
This year the 31st International Coastal Cleanup will take place on September 17th, 2016. Join in for a day of sun, fun and conserving the ocean!
If you can't make it to an ICC site, you can do your own cleanup! The International Coastal Cleanup may only be once a year but that is not the only time the coasts need cleaning up. Become a champion of your ocean and keep it trash free all year long. Every piece matters too! Through our mobile data collection app, Clean Swell, each item you pick up and log is one less piece of trash in the ocean and one more step towards trash free seas.
The best thing that you can do for the ocean is to pick up any trash you see, reduce-reuse-recycle and remember that all waterways lead to the ocean! Simple habit changes can have a huge positive impact on our mission to conserve the ocean.
See you at a Cleanup site on September 17th, 2016.
Check out this informative infographic to learn more about the impact of the International Coastal Cleanup.
Tori Glascock is a 2016 Ocean Conservancy Summer Intern.