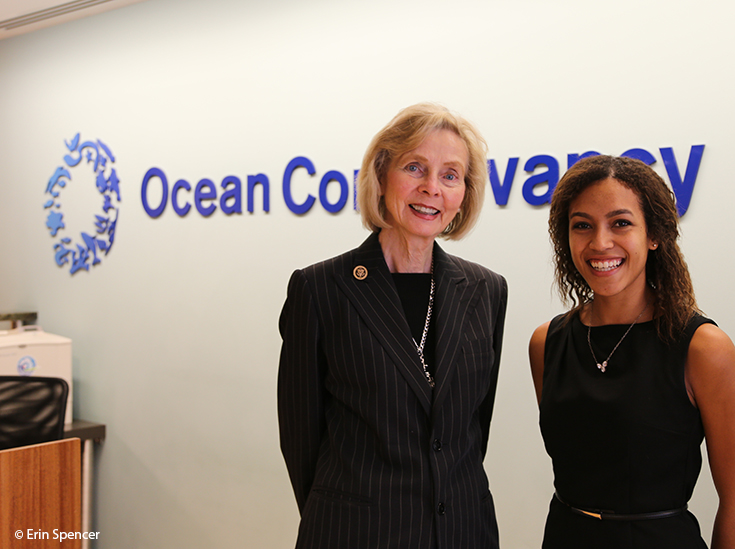 "The ocean is a major part of my life, all our lives." – Representative Lois Capps
Today, Congresswoman Lois Capps of the 24th District visited Ocean Conservancy, to speak not only on her legacy in Congress, but also her incredible contribution to our ocean.
Like me, Representative Capps is a Cali girl. Although born in the Midwest, she spent fifty years living in Santa Barbara as a nurse, educator and congresswoman, elected to first represent the Central Coast in 1998. In fact, Representative Capps spoke about enrolling her children in the Junior Lifeguard program–the same program I did growing up, the one that formed my love for the ocean!
Representative Capps demonstrates a dedication to marine conservation like no other, including advocating for marine protected areas, marine life and environmental education. She supported the expansion of coastal and marine monuments off the California coast, prevented offshore drilling and is a leader on the issue of ocean acidification. She's even co-sponsored a long list of legislation, including acts protecting sea turtles, sharks and sea otters. And who doesn't love sea otters?
Before Representative Capps was a congresswoman, she was a nurse. Her background lies in public health, and she understands the ways in which human health and the ocean are inextricably tied. Better than anyone I've met, she was able to communicate how human health relies on the ocean, just as the health of the ocean relies on us. (Did you know the devastation of the 1969 Santa Barbara Union Oil's spill brought about the concept of Earth Day?)
During her talk, all I could think was "preach Representative Capps, preach". Her calls to transition away from the burning of fossil fuels, mitigate the effects of ocean acidification and promote ocean education resonated with many in the room. Perhaps most important was her motivation to keep fighting for positive ocean change.
With the work of people like Representative Capps, I was able to grow up in a healthy ocean, along the coast of Southern California. My time in the water and the sand inspired a love for the marine environment, which ultimately led me here, to Ocean Conservancy.
Congresswoman Capps is a true ocean champion, a leader in ocean policy and an inspiration to future generations.
Thank you, Representative Capps for your vision, leadership and inspiration. We can't thank you enough for such a wonderful visit!