A New Year, a New Set of Rules for Polar Waters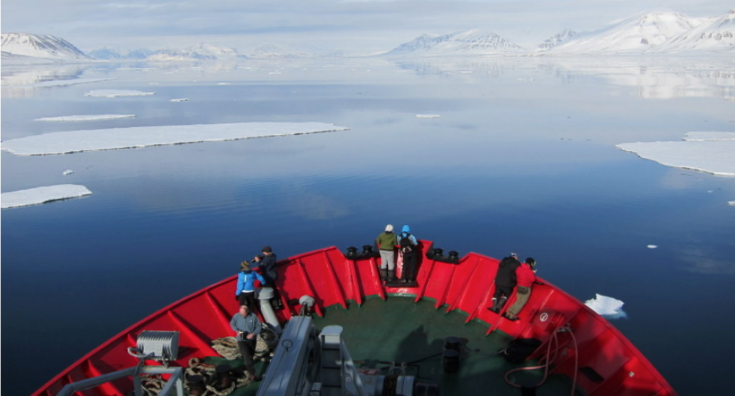 It's 2017, and a suite of new standards and practices are now in place for vessels operating in Arctic and Antarctic waters. The new set of rules—called the Polar Code—is designed to increase ship safety and environmental protection in high-latitude waters. Adopted by a specialized agency of the United Nations called the International Maritime Organization (IMO), the Polar Code sets standards for ship safety and for prevention of pollution from international shipping. The Polar Code took effect on January 1 of this year (with a one-year phase in period).
The Polar Code is so important because as sea ice continues to decline, the Arctic Ocean is becoming more accessible to vessel traffic. But as more ships operate in those remote and challenging waters, there are substantial safety and environmental risks—including possible impacts to food security of Arctic indigenous peoples.
The Polar Code includes both mandatory and recommendatory measures intended to mitigate the risk of Arctic shipping. For instance, vessels operating in polar waters must now apply for a Polar Ship certificate, which requires an assessment of the vessel's suitability for intended operating conditions. The Polar Code also requires voyage planning that, among other things, helps to avoid aggregations of marine mammals and seasonal migration areas. It also bans discharge of oil or oily mixtures and noxious substances, and places relatively strict limitations on discharge of sewage and garbage.
While the Polar Code is unquestionably a major step forward, it does not address all the safety and environmental challenges related to Arctic vessel traffic. For example, use and carriage of heavy fuel oil—the dirtiest and most difficult-to-recover oil if spilled—is banned in Antarctic waters, but the Polar Code still allows vessels to use and carry it in the Arctic. Ocean Conservancy is working with partners to phase out the use of heavy fuel oil in Arctic waters.
The Polar Code does not address the discharge of harmful graywater, imposes no mandatory measures to reduce the threat of invasive species, and does not limit harmful air emissions from vessels traveling in Arctic waters. More broadly, the Polar Code only applies to certain types of vessels that operate in the Arctic, and does not fully address concerns about lack of infrastructure and maritime information in the region. There are also challenges with respect to enforcement of the Polar Code.
As you can see, there's still plenty of work to do to increase safety and protect Arctic waters from the impacts of shipping. But, I'm optimistic that the Polar Code is a step in the right direction, and a good start to the new year. Ocean Conservancy will continue to work with the IMO and our partners to strengthen the Polar Code and ensure that new regulations protects the ecological heritage of this unique and fragile region at the top of the planet.