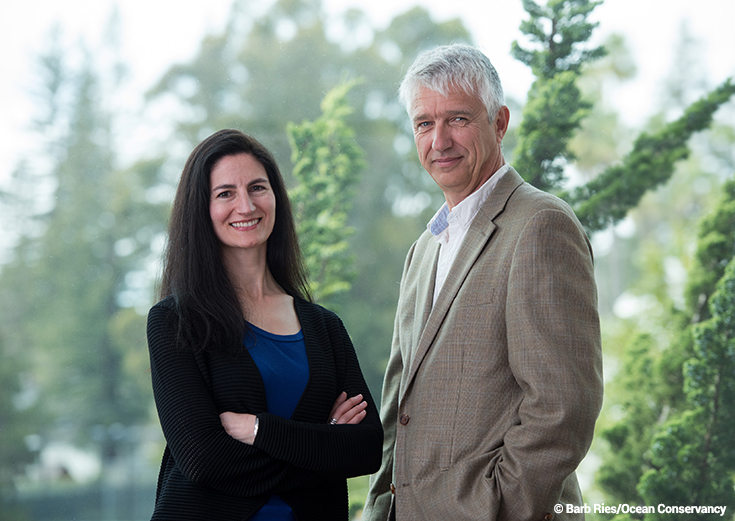 Today, Ocean Conservancy took a bold step.
I am proud to let you know my friend and colleague Janis Searles Jones has stepped into the role of Ocean Conservancy's CEO as I assume the role of President. This mutual decision was unanimously endorsed by Ocean Conservancy's Board of Directors.
Yes, this is unusual. But we live in unusual and uncertain times. The current U.S. political climate poses a challenge to the ocean and coastal communities, to put it mildly.  We need to be at our very best.  This move allows Janis and I to focus on what we do best. It builds on the extraordinary partnership that we have shared over the past four years here at Ocean Conservancy. Janis's passion for our field work and conservation programs, extensive litigation and strategic experience, deep domestic policy knowledge and expansive networks makes her the best leader an organization could ask for as we navigate these uncharted waters.  I have had the privilege of leading the organization through a significant period of international growth. I will continue to prioritize this work in my new role with a focus on expanding Ocean Conservancy's international climate work, cutting-edge fisheries management tools, and our global efforts to reduce the amount of plastic waste flowing into the ocean.
Another change we have made to our senior leadership team is the promotion of Emily Woglom to Executive Vice President. Emily has been a key team member at Ocean Conservancy for seven years, first leading our government relations team, then expanding her role to provide strategic management of many of our programs—including growing our international plastics work.  Her domestic policy experience and ocean knowledge is vitally important as we respond to the challenges and opportunities ahead.  In her new role Emily will apply those talents to help shape the decisions we need to make as we look to develop and add to our strengths in a new political reality.
The future belongs to the optimists. We have just passed the two-month marker on the Trump administration. We are witnessing significant rollbacks on hard-won progress made under several Republican and Democrat leaders. While the challenges may seem unsurmountable, we at Ocean Conservancy are optimistic and hopeful. We are part of a wide and deep movement that shares our values of fairness, community and environmental stewardship. Our work remains grounded in the belief that the ocean and the people that rely on it transcend political parties and partisanship. Our new leadership structure is going to enable us to meet the challenges ahead in the US political landscape and take advantage of the opportunities internationally to expand our work.
Together, we will face the challenges in our path with grit, integrity and optimism. We continue to be smart and strategic about the big picture and little details. And no matter who holds sway in Washington, D.C. at any moment in time, we know the real power lies with the people.
You—our ocean champion—are our greatest strength. As Ocean Conservancy starts this new chapter, we are going to need you more than ever. We will continue to rely on your passion and commitment to weather the storms. We are going to win some, and we are going to lose some. But we stand strong. We will adapt. We will invest in the future in every action we take.
I could not be prouder of the work that we've accomplished together over the past four years. I could not be more excited to work with Janis as CEO in my new role as president. I invite you to celebrate this new path with us, and join us as we advance our common mission of protecting our ocean.