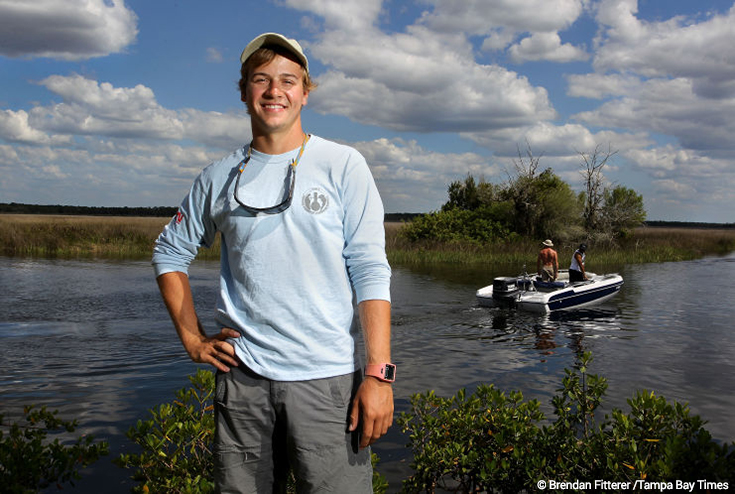 It's been seven years since the BP Deepwater Horizon oil disaster began, and we're looking back on how the disaster has shaped our lives here on the Gulf Coast. We decided to revisit our 2015 interview with Cole Kolasa, one of the youngest contributors to our Postcards from the Gulf series. At the age of 19, Cole has already been advocating for our ocean for nearly a decade. As a member of SCUBAnauts International in high school, Cole has studied corals on Florida's Gulf Coast, and he has watched the BP oil disaster unfold as he grew up. We've invited him to share his story with us again.
Matt Love: We last talked with you two years ago. What's changed in your life since then? What have you learned about the Gulf and/or the BP oil disaster since then?
Cole Kolasa: Since we last spoke I've made the transition into college and have been living on the opposite coast of Florida. Any time not spent at school is spent on the East Coast surfing or fishing wherever the conditions are good at the time. I've definitely picked up a few new favorite areas such as Matanzas Inlet and River, Mosquito Lagoon, and other various spots along the Indian River. I definitely miss the Gulf, and anytime I'm home I make sure I pay a visit to the "Nature Coast."
Since we last spoke I haven't heard too much about the oil spill. I did meet with some officials for our county's water management system who told me that there were in fact dispersants added to the waters in our area meant to break down any oil that came into our area. At the same time there was a large decline in the coral population I was researching due to too much algae and invasive encrusting sponge growth. I'm not sure if the decline in coral health was due to the dispersants but it would've been useful information at the time of my research.
ML: There's a lot of money available to restore the Gulf after the oil disaster (over $20 billion, in fact). How would you spend that money?
CK: I think I'd put it into making the coastal areas affected back to the way they were 100 years ago. "Re-Floridifying," if you will. I hear stories from my dad and grandparents about the way things used to look like, and I wish I could see that today. So often now it seems that it's hard to come by areas that haven't been affected by development or other unnatural causes, and it's been my goal to find those areas in the Gulf. That's definitely one of my main goals for the upcoming kayak-packing trip I'm planning from Pensacola to South Florida. I know I'll pass by some of the MOST developed areas along the Florida coast, but I'll also see some of the least. I'm really looking forward to those moments.
ML: Describe one of your best memories of the Gulf.
CK: This past summer I was working a lifeguarding job close to the Gulf, and anytime I wasn't working I was out fishing and exploring the nearby tidal creeks in my flats boat or kayak. There wasn't a day I wasn't on the water. I found some really interesting areas, met a lot of locals and new people, and really just felt like I was a part of these small coastal communities that dot the coastline. I really felt in touch with my surroundings and my little stretch of coastline I've grown up on.
ML: What gives you hope for the Gulf?
CK: Today you see a lot of people who are really starting to be interested in getting outdoors and exploring what's around them. Maybe it's just because I'm in college and meeting a lot of youthful people who are willing to take that initiative to get outside, but I really believe that more and more people are starting to pick up that kind of active lifestyle. That by itself will bring attention to the Gulf. More attention will mean more people will want to get involved and hopefully through that there will be more time and money put towards keeping our Gulf the way it should be, the old Florida way.
ML: Thank you Cole, for sharing your experiences over the last couple of years along the Gulf. I can't help but think you represent a prominent cadre within your generation that recognizes and loves the quiet natural beauty still alive and well along the Gulf. I think you are right. There is a renewed interest and appreciation of the many benefits we now know these areas provide to our overall well-being. We owe it to all of you to emerge from the BP oil disaster with a path to provide long-lasting hope for sustaining a healthy future for the Gulf of Mexico.