How an Argument Led to a Big Discovery: An Interview with USGS Scientist Kim Yates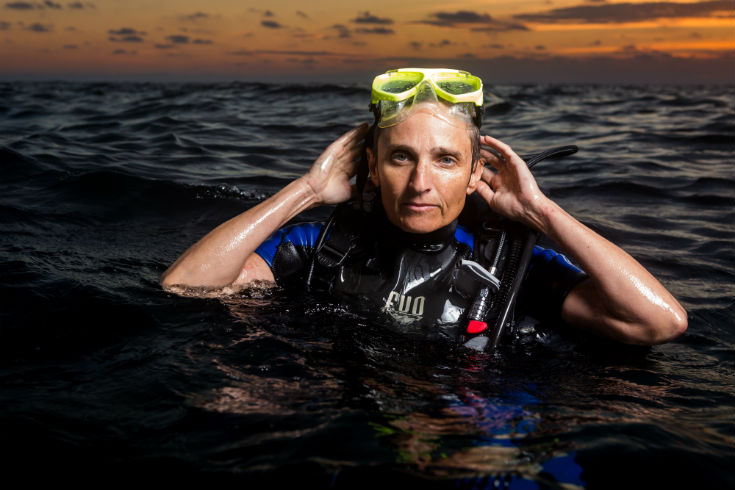 The Ocean Conservancy ocean acidification team has spent time in Florida over the past year talking with fishermen and scientists to better understand how changes in ocean chemistry are affecting Florida's coastal communities and its marine resources, including its iconic coral reefs and fish. On our most recent visit, we interviewed Dr. Kim Yates, an oceanographer with the U.S. Geological Survey, who is an expert on ocean acidification impacts on coral reef ecosystems about vanishing sea floors and how arguing with a boat captain led her to a major scientific discovery.
Ocean Conservancy: Dr. Yates, how does ocean acidification affect coral reefs and the ecosystems around them?
Dr. Kim Yates: The animals that create coral reefs thrive in a particular range of pH and carbonate, which is a chemical they use to help build their skeletons. Reefs provide habitat for fish and other reef life, but the skeletons of reef organisms also naturally break down and make sand. And much of that sand supports a lot of ecosystems around the reef. That sand also helps nourish beaches along coral reef coastlines. Ocean acidificationcauses reefs to slow down their growth rate, and when that happens, they don't break down into as much sand that supports the surrounding ecosystems and even the beaches. And when the pH of seawater decreases from ocean acidification, it can actually even cause the sand that's made out of that carbonate material to start dissolving.
OC: But corals only border some areas of Florida. Why should the whole state pay attention to ocean acidification?
KY: One of the most unique and interesting things about the state of Florida is that our entire state sits on top of what we call a carbonate platform, or rock made out of the same material as coral skeletons. We don't know how ocean acidification is going to affect the bedrock that supports our entire state. When ocean acidification decreases the pH of seawater, it can cause that carbonate material to dissolve. So this problem of ocean acidification is not just localized to our coral reefs, or to our shellfish beds, it's a statewide problem for Florida.
OC: What inspired you to look at Florida's bedrock and sand, and not just living corals?
KY: That research actually started with an argument I had with a boat captain. One day we were working out in the Florida Keys on a reef and I was snorkeling around, looking for a place to put some instrumentation down on the sea floor. And the captain told me to motion to him when I found a good place and he would bring to boat over, close enough so we could put the instrumentation on the sea floor. So I looked around, and I found the spot, and I motioned to the boat captain, but the boat captain wouldn't come over. And so I motioned to the boat captain again and he still wouldn't come over. And so, somewhat frustrated, I swam all the way back to the boat and I said, "Captain, you told me to let you know when I wanted you to come over and anchor the boat. And you wouldn't come. What's going on?" He said, "I can't bring the boat over there. It's only two feet deep." I looked at him and said, "No, there's 12 feet of water over there." And he said, "No there's not," and he pulled out the chart, and he laid it on the table and said, "See, it's only 2 feet deep." Sure enough, the chart said two feet deep. I had to put him in the water and swim him over to show him there was actually 12 feet of water there.
Thinking about it later, I realized there was either a serious problem with the nautical chart or we were missing ten feet of sea floor in that location. As it turns out, many modern day nautical charts actually combine sea floor or water depth data from decades past. So if you're looking at a 2010 nautical chart, it might combine data measured by hand from the 1870s and the 1930s and the 1950s as well as modern data. And so we launched a large-scale investigation, comparing all of the historical water depth data to modern elevation data.
OC: What did your research show?
KY: We discovered that coral reef degradation in Florida has caused a dramatic decrease in regional sea floor elevation. In other words, coral reef breakdown is flattening the sea floor.
But coral reefs and a bumpy sea floor are important for slowing down big waves. When you stand on a beach and watch surfers, they are usually way offshore because that's where the big waves are. You can see those big waves breaking offshore, and the surfers ride them as they are breaking. But, by the time the waves reach the beach where you are standing, they are much smaller. That's because coral reef structure and shallow seafloor breaks the big waves up offshore before they make it to the beach. When you lose that shallow seafloor or coral reef structure, or both, those big waves can make it to the beach before they break up. There, they will cause more erosion and damage along the coastline. The shallow seafloor and coral reefs act as a natural barrier that breaks up large waves before they hit the coastline.
South Florida is particularly vulnerable to sea level rise because the highest areas on land in the Florida Keys are only about six feet above sea level. So when you have incoming storm waves, everyday waves and coastal erosion, it's much more concerning when you're only living about six feet above sea level. Reefs are a key defense protecting us from ocean waves. Our research is going to help USGS better predict how these changes are going to affect these coastal communities today and into the future.
Dr. Yates' research made the front page of the Miami Herald on April 21. Learn more about how she and her fellow scientists have uncovered the phenomenon of a vanishing sea floor off the coast of Florida.