Celebrating Seafood and Heritage with the Gullah/Geechee
The Gullah/Geechee are working to protect their tradition of subsistence fishing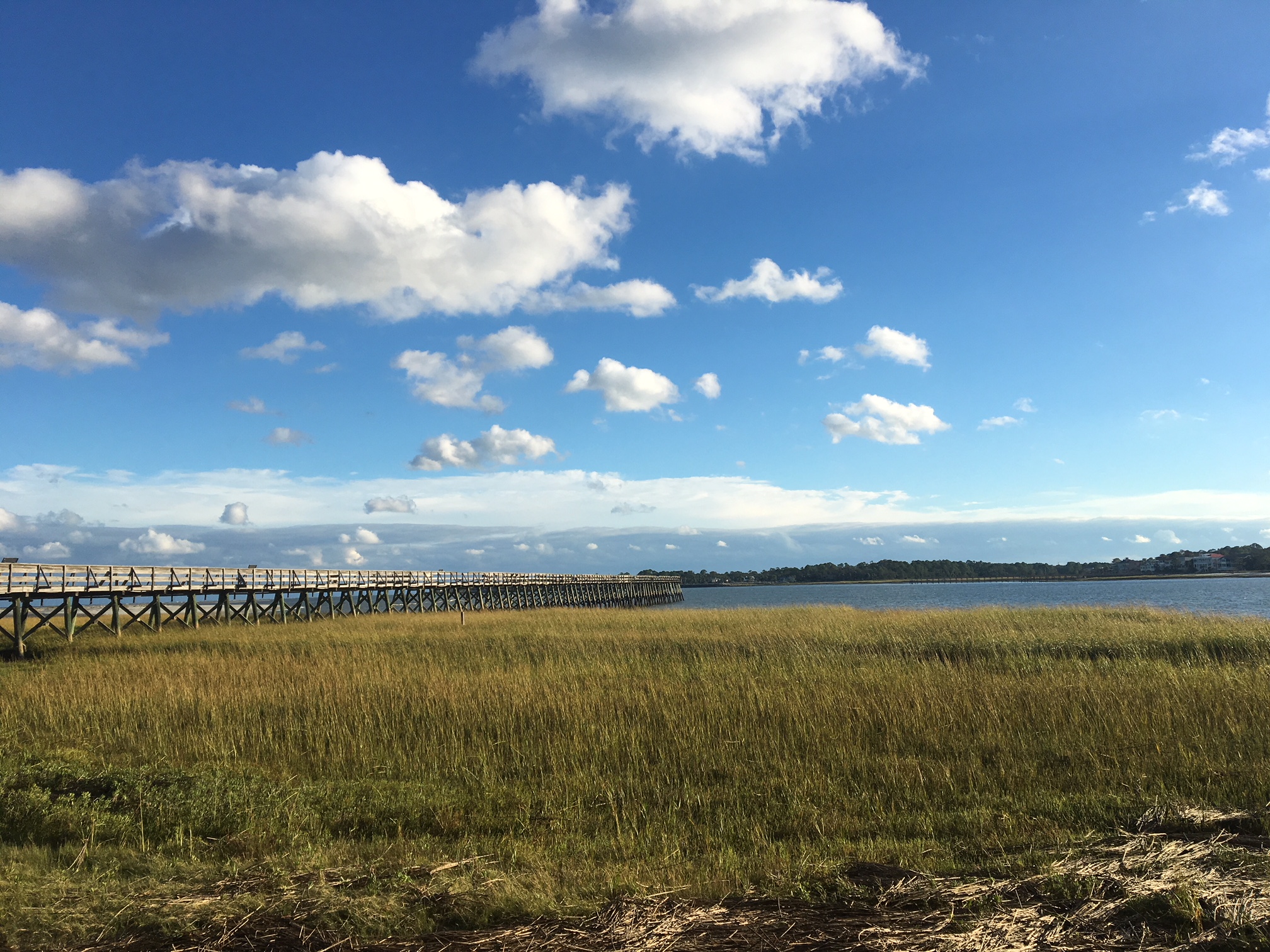 Driving from Savannah, Georgia to Saint Helena Island, South Carolina I see large houses and mobile homes, egrets standing in wetlands, and miles and miles of trees draped with Spanish moss. As we head to the 5th Gullah/Geechee Seafood Festival, I anticipate good company and good food—particularly the seafood and rice for which this community is known. The festival is a fundraising and family event with the goal of raising awareness of the community's fishing traditions and its struggle to maintain them. These struggles include dealing with ocean acidification, climate change, sea level rise, land rights issues and fishing permits. The Gullah/Geechee have had to adapt to these ocean, climate and policy changes while also preserving their fishing traditions and connection to the ocean.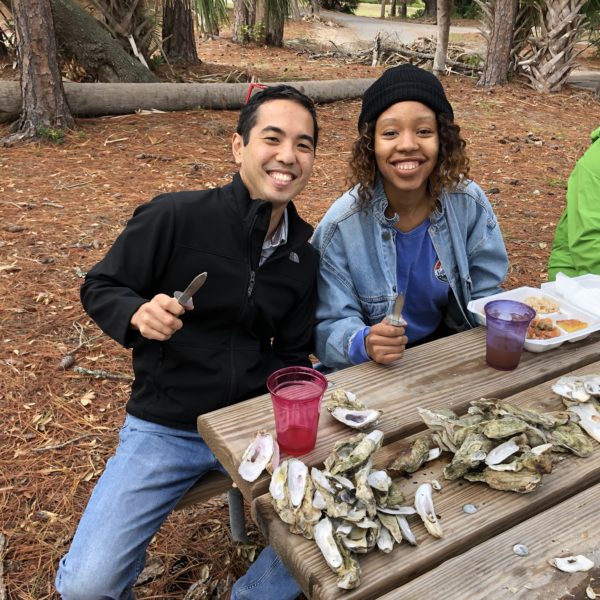 When we arrive, the first person I notice is the famous Queen Quet. She's standing under a tent, selling tickets for seafood plates, as well as books, t-shirts and hats. She greets my colleague, Ryan Ono, and me with a hug and thanks us for coming out. There are tables with handmade body creams, oils, soaps and art for sale. There is a table closer to the shore loaded with food—fried fish, gumbo, deviled crab, rice and peas, and red rice. Behind this table, a fisherman named Ed Atkins is roasting local oysters.
Ed, who is a longtime commercial fisherman and one of the founding members of the Gullah/Geechee Fishing Association along with Queen Quet, said that his favorite part about fishing is putting food on the table for his family. The Gullah/Geechee have traditionally been subsistence fishers. Queen Quet is working to get legislation passed so that Gullah/Geechee members can be recognized as subsistence fishers. The community wants to be able to fish to feed their families and fish as they have for generations. To maintain this tradition of fishing and protect their ocean-reliant livelihoods and homes along the coast, the Gullah/Geechee are increasingly taking part in marine policy development and advocacy. We are collaborating with them on addressing some of these issues, such as addressing coastal acidification and water quality in their region.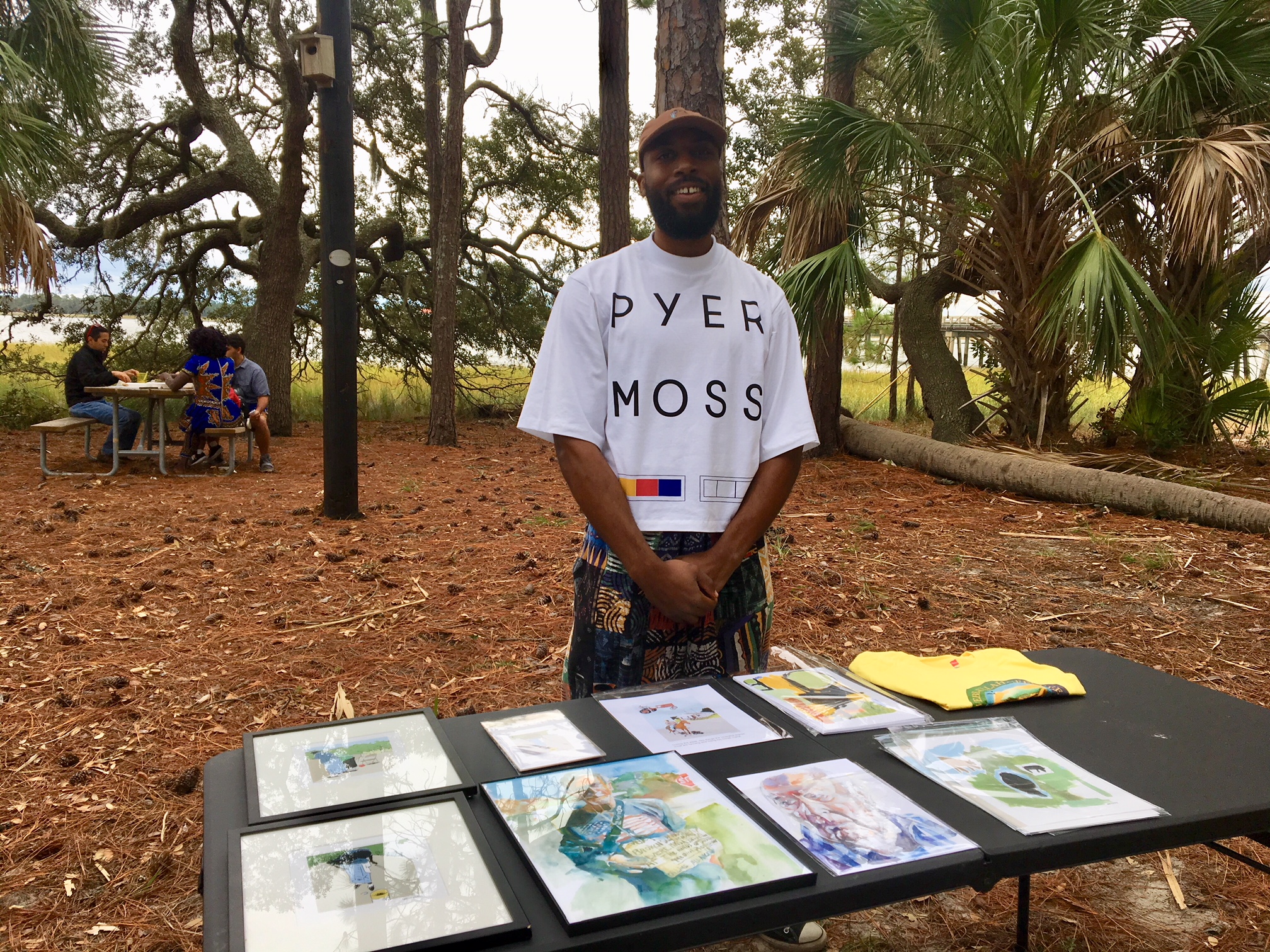 Important for more than economic gain or sustenance, practicing their traditional fishing methods is how the Gullah/Geechee sustain their culture and pass down traditions through generations. One younger member of the community, Ment Nelson, grew up going fishing and crabbing with his grandmother. And now he uses art to highlight these traditions and preserve Gullah/Geechee culture. Ment did not know that his culture was unique until he got older and realized that many people outside of his community did not have the same traditions or had not even heard of the Gullah/Geechee. Much of his artwork includes paintings of his grandmother fishing and crabbing. Ment's art is not only preserving Gullah/Geechee fishing traditions for his generation and future generations of Gullah/Geechees, but is also an entry point for people outside the community to engage with Gullah/Geechee culture. In fact, his art is now being featured in a traveling Smithsonian art exhibition called "Crossroads: Change in Rural America."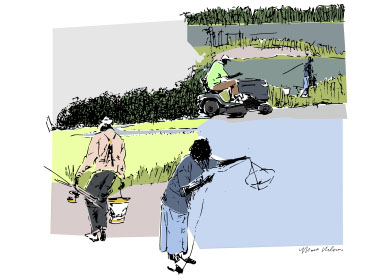 While many folks at the seafood festival were gathering around the picnic table near the food, someone asked a question that led Queen Quet to talk about the history and evolution of Gullah/Geechees using cast nets for fishing. She explained how they traditionally made cast nets out of cotton, but now they use nylon-cotton blend or solely nylon cast nets. Queen Quet said she won't use her remaining cotton cast nets because if those get ruined, no one else in the community can make cast nets from cotton anymore. After Queen Quet's impromptu history lesson, a few people tried out their net casting skills, and some of the more experienced Gullah/Geechee members had to show them how to cast a net properly.
There is a delicate balance between adaptation and change and preservation of tradition. By working on creative policy solutions in addition to festivals, art and passing down knowledge through generations, the Gullah/Geechee Nation hopes to maintain that balance. And we will actively work with the Gullah/Geechee to create policy solutions to sustain their connection to the sea amidst ocean-climate changes.