Oysters Open the Doorway to Opportunity
A conversation with Oyster Ninja Podcast host, Gardner Douglas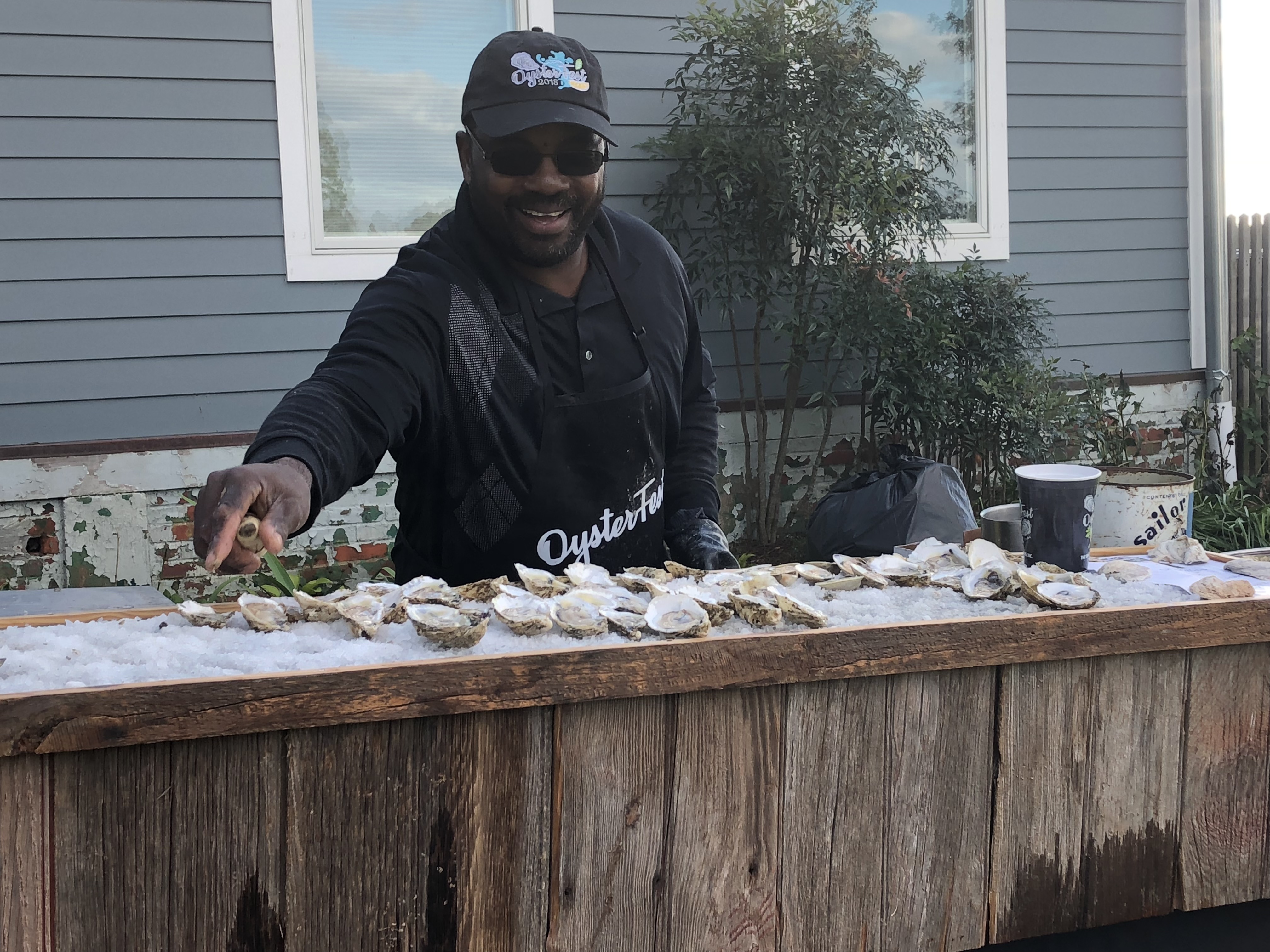 What does the ocean mean to you?
I got to ask Gardner Douglas, host of the Oyster Ninja Podcast, this question. We sat down at Union Market, where Douglas used to shuck oysters, to discuss the role the ocean and oysters have played in his life and how he came to be one of the best oyster shuckers in the United States. Douglas currently runs a mobile raw bar and caters private events such as weddings and other special events.
Before Douglas became a prominent oyster shucker from the Eastern Shore, he served in the military. Douglas explained to me that he was shucking oysters in his late-teens to early-twenties before he went to the military at the age of 24. Even during his time in the military, oysters remained important to him. Douglas admitted, "oysters were kind of like in the back of my mind, even during basic training."
After Douglas returned from a tour in Afghanistan, he realized he was "tired of being under stress in that environment." He wanted to do something that brought him happiness. "So I had to dig deep and go back to my basics and what makes me happy, what will be less stressful, what will make me feel good at the end of the day. That was oyster shucking," Douglas said. So, he began looking for oyster shucking jobs and found one at the Union Market in Washington D.C, where he worked for a couple of years before starting his very own mobile raw bar.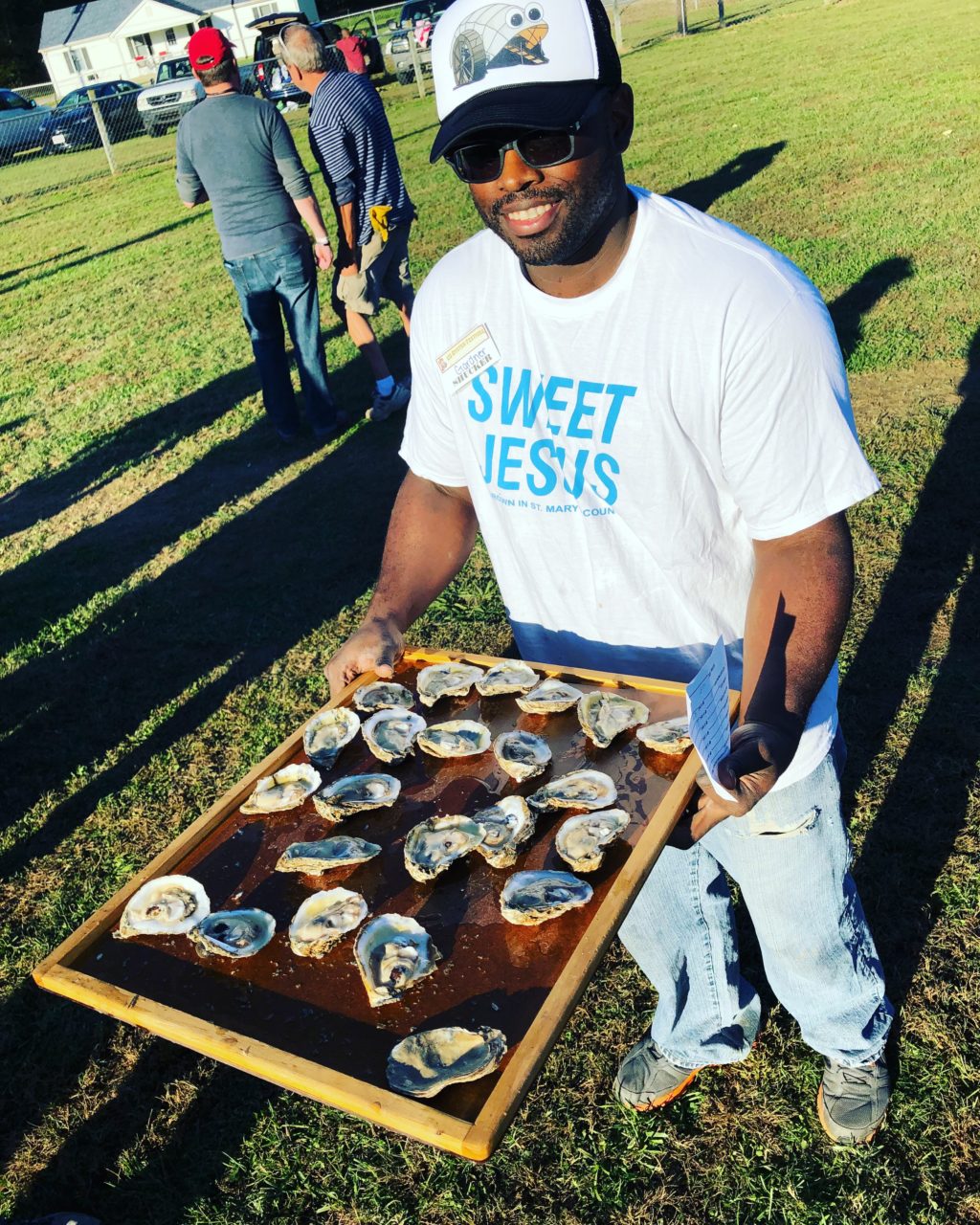 Douglas learned how to shuck oysters from his dad, who was deep in the oyster industry during what Douglas calls the "golden era" of oysters due to the abundance of work available in the industry. He explained, "There were oyster shucking houses everywhere…There were a lot of older people who had [grown] up on the water and were eating fresh food." Douglas's dad supplied fresh oysters to different communities.
However, the oyster landscape has changed since his father's time. Douglas reflected, "A lot of things they did back then you can't do now. You have to have certain permits and licenses and certifications and inspections. So even just talking about it feels weird because I don't want to get the man in trouble."
Although the oyster landscape is different today, oysters have been a constant in Douglas's life. He is continuing a legacy of the Chesapeake area's black community living off the water. "African Americans working on the water is part of life," Douglas commented.
Oysters have long sustained black folks in the Chesapeake-area, and at times, have led to fame and fortune. Douglas keeps with him the story of Thomas Downing, a man who became a millionaire off of oysters despite being born from parents who had been enslaved. Like Douglas, Downing was from the Eastern Shore and managed to become successful in the oyster industry. Downing became so famous for his oysters that he shipped oysters to the Queen Victoria of England, and in return he received a gift from the queen. This story made Douglas believe he can do anything.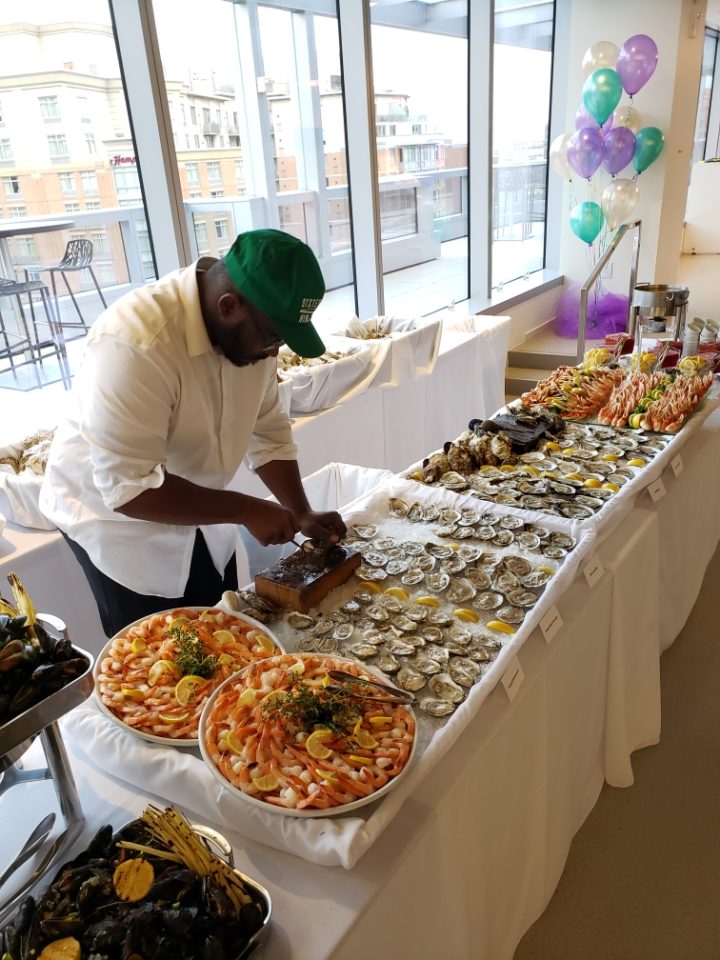 Along with this community legacy, Douglas is also continuing a familial legacy. Douglas's grandmother, father and uncles worked in oysters before him. Douglas reflected, "It keeps me in contact with everybody before me. It's a good feeling. Everybody shucked oysters. Everybody worked with seafood some type of way…It just makes me feel good. My grandma worked a hard, long life. And then [her] taking [care of] my brother and my sister. Oysters helped to provide."
Oysters have done more than help provide for Douglas—they have given him an audience as well. Douglas created the Oyster Ninja Podcast. He wanted to establish an outlet for oyster shuckers, farmers and anyone else involved in the oyster world.
The ocean has become a way for Douglas to express himself. The ocean has been a doorway, offering him vast opportunity. "I feel like [the ocean is] a doorway almost. A door with the keys in…This industry has put me in places I'd never thought I'd be," Douglas reflected. "I never could [have] dreamed that I would be wanted [for my oysters]." He's even shucked oysters for the Obamas.
Oysters have not only been a source of income and notoriety for Douglas, but a source of joy. When he's shucking oysters, he said, "I always have that Biggie [song] in my head: 'like style and grace.' You just flowing like the water. It's so fluent. The motions are so fluent….It's a good time! I just want to spread the love that I'm feeling inside."
Looking forward, Douglas wants to get more youth, and particularly inner-city youth, around the water because he believes it is important for youth to have exposure to the possibilities the ocean holds. He said, "I don't know what would have happened if I knew about aquaculture or sustainability or shucking oysters in middle school."
Douglas is grateful for the possibilities that have opened up to him from shucking oysters. To his supporters Douglas says, "Thank you to [everybody who] has ever listened to the podcast. I want to say thank you to anybody who has ever booked me for an event. Anybody who's ever come out to my events and ate oysters. I'm so appreciative of the support that I get. Cause to some people it's a dirty job. And other people look in awe."