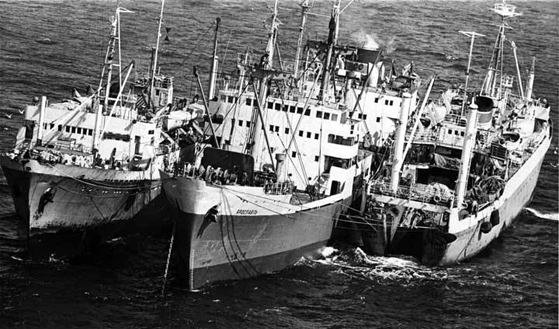 After World War II, the American fishing industry was booming. The nation was full of mouths to feed, and fish were plentiful. New technology was making commercial fishing more profitable and easier than it had ever been before. There were no federal regulations on fishing and most states only held jurisdiction over the first three miles from the shore. Beyond that marker, it was all up for grabs.
For a time, that worked for everyone: it seemed there was plenty of fish in the sea for those willing to brave its waters, and federal and state governments saw no reason to intervene.
However, by the 1950s, fishermen in some parts of the country were starting to see their catches dwindle. In Alaska the unmitigated and irresponsible use of salmon traps by canneries had decimated the salmon runs. Fishermen reached out to the government for help, and in 1953 President Eisenhower designated some parts of the Alaskan coast a federal disaster area in response. But it took more than that to fix the Alaskan salmon runs, and it would be quite a few more years before fishermen across the nation raised an outcry sufficient to forever change the way America regulated the precious public resources that swim off our shores.
What prompted that change was the arrival in force of vast fleets of foreign factory ships fishing just off our coasts.
Arriving from the former Soviet Union and Asia, these ships were bigger and faster than American vessels, and more importantly they were designed and operated to take as many fish as they could as quickly as they could. With a virtual free-for-all seafood banquet starting three miles offshore, these foreign armadas were pulling in vast quantities of fish, methodically and mercilessly leaving emptied tracts of ocean behind them.
In 1966, with fishermen's wives leading the charge, the U.S. added an additional nine miles to the existing three, creating an exclusive fishing zone with limited enforcement measures. While the new "twelve-mile limit" created a little more breathing room, it didn't put an end to the depredations of the foreign fleets, which some Alaskans referred to as "cities on the sea;" both for their size and their bright lights at night.
U.S. fishermen watched their traditional fishing grounds be scoured clean. Even those who had once happily espoused the lack of regulation could no longer ignore the problem as their very livelihoods hung in the balance. Fisheries across the nation were rapidly depleting, and some had already collapsed.