Species Spotlight: Leatherback Sea Turtles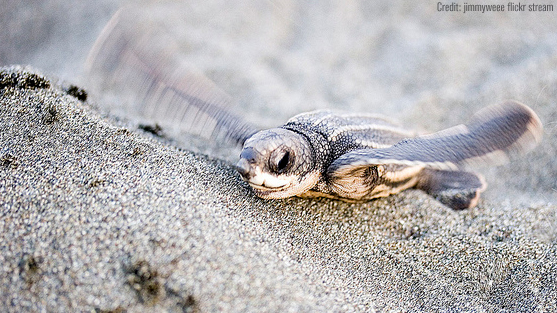 The leatherback sea turtle has spent over 100 million years living beneath the ocean's waves. It is the longest surviving and one of the largest reptiles on earth. With a heritage that goes back to the dinosaur era, the leatherback sea turtle's impressive list of accomplishments is virtually unmatched.
Leatherback sea turtles:
Weigh in between 500 and 2,000 pounds
Can reach lengths from 4 to 8 feet long
Live up to 100 years
Dive to extreme depths, often deeper than 4,000 feet
Swim great distances, such as traveling over 7,000 miles
Leatherbacks are noticeably distinct from their sea turtle brethren: their heads are not retractable; their flippers do not have claws; and a specialized, rubbery and flexible carapace exists in place of a hard shell. A warming layer of fat as well as a relatively low metabolic rate and  ability to alter blood flow keeps the leatherback cozy in frigid water.
It should be no surprise, then, that the leatherback also has the distinction of being the most widely distributed sea turtle species in the world. Gliding through the vast waters of the Pacific, Atlantic and Indian oceans as well as the Mediterranean Sea, leatherbacks go on an often-perilous journey to reproduce and obtain food.
Cruising for squid, sea squirts and jellyfish (whose tentacles they find a particular delicacy), the leatherback sea turtle utilizes its top secret weapon – backward-pointing spines that cover its mouth and throat. This prevents jellyfish from escaping before being swallowed as dinner.
The female leatherback deposits 60 to 120 eggs during each of the four to five trips she makes to shore per nesting season, often at the same location she was born; this is the only point in her life that she will leave the water. Male leatherbacks never return to shore after making that first momentous and hazardous journey from the nest across the beach and into the water after birth.
On the endangered species list since 1970, most leatherback nesting populations have plummeted more than 80 percent in the Pacific. Scientists estimate that only one in 1,000 hatchlings lives to see adulthood.
This frightening decline stems from habitat loss, boat strikes, the poaching of young turtles and eggs from nesting beaches for human consumption, environmental contamination from oil and gas exploration and extraction, death by injury or accidental drowning in fisheries, and death by ingestion of plastic bags, which resemble jellyfish.
Together, we can work to ensure that this 100-million-year-old marvel does not disappear forever. Ocean Conservancy is helping introduce shrimp fishing gear that helps prevent leatherback sea turtles and other wildlife from being caught and killed incidentally. And our International Coastal Cleanup helps remove millions of pounds of trash from beaches and waterways each year, preventing leatherbacks and other wildlife from accidentally ingesting it.
With your support, Ocean Conservancy can make an enormous impact on the lives of these truly remarkable sea turtles.